George Information and Services
Customer aiding information
We know just how important it is to get a good night's sleep and one of the keys to sleeping well is choosing the right duvet and pillows.
So why not turn your bedroom into a haven of comfort with our beautiful bedding range? Sleep tight!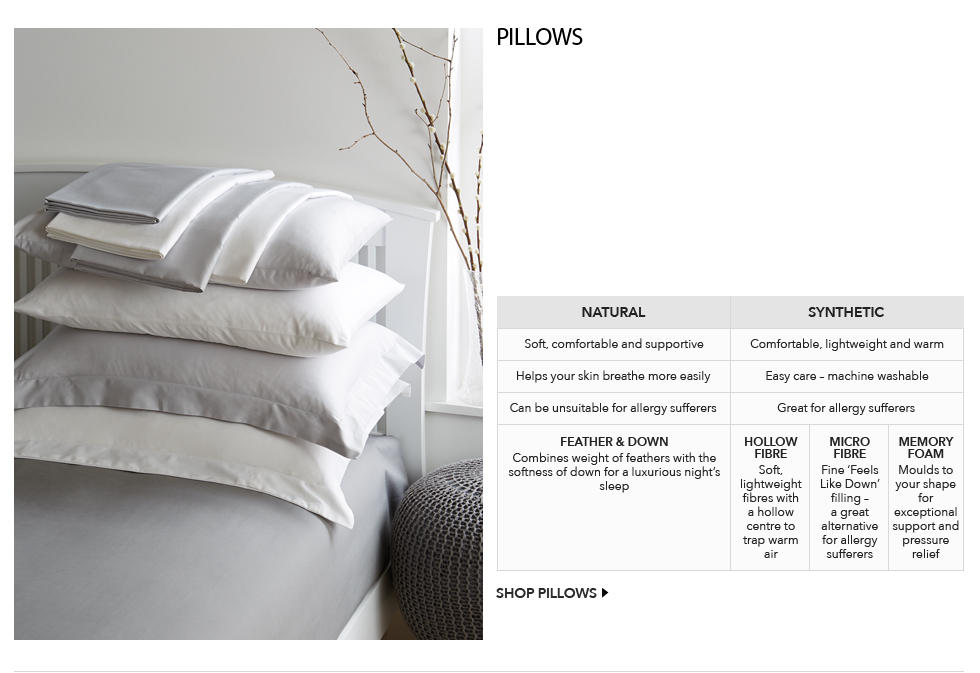 Which support is right for me?
Our pillows come in a choice of SOFT, MEDIUM and FIRM support.
The one you choose should match your preferred sleeping pattern position,
helping you keep your spine properly aligned to relieve pressure and
prevent aches and pains for a great night's sleep.


Simply decide whether you prefer to sleep on your:

FRONT - Choose SOFT to minimise neck strain.
BACK - Choose MEDIUM for extra shoulder support.
SIDE - Choose FIRM for extra neck support to keep your spine aligned.

Which filling is right for me?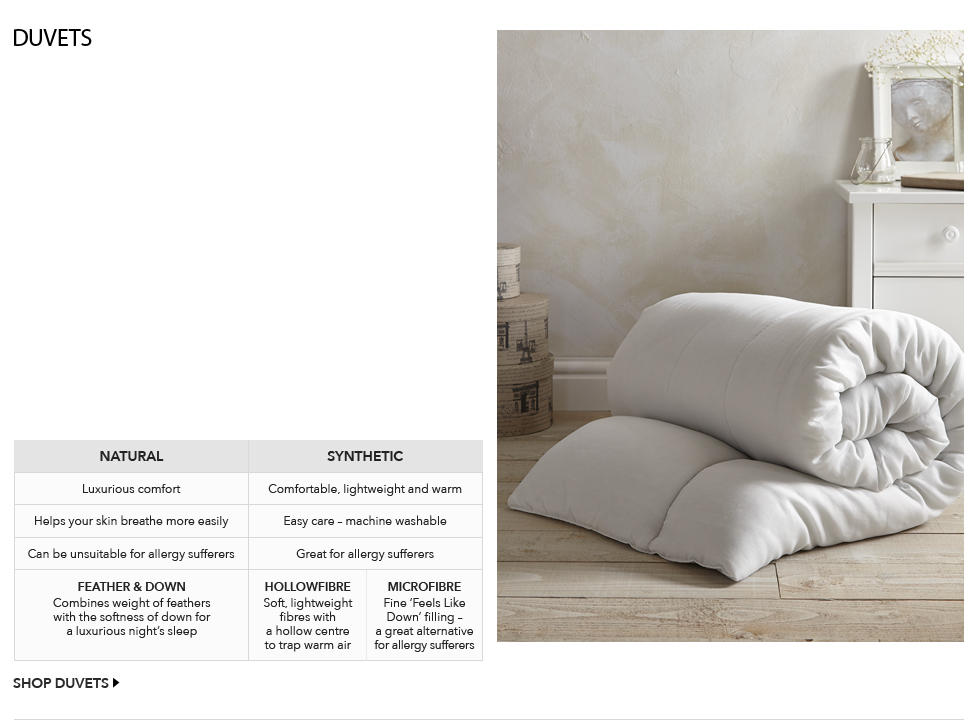 Which tog rating is right for me?
Duvets come with a tog rating to help you find the one that will make you
the most comfortable: the higher the tog rating, the warmer the duvet. When
choosing your duvet, consider the season, the temperature of your bedroom and how warm you like to be.

Simply decide whether you prefer to be:

Cool - Choose 4.5 Tog a lightweight duvet ideal for summer.
Medium - Choose 9/10.5 Tog a midweight duvet ideal for spring
and autumn.
Warm - Choose 13.5 Tog a mid – heavyweight duvet suitable for all year
round use.
Extra warm - Choose 15 Tog an extra heavyweight idea for very cold
winters.

All season duvets feature a 4.5 Tog and either a 9 or 10.5 Tog duvet which
you can use separately for the milder seasons and combine in the winter for
year round comfort.

Which filling is right for me?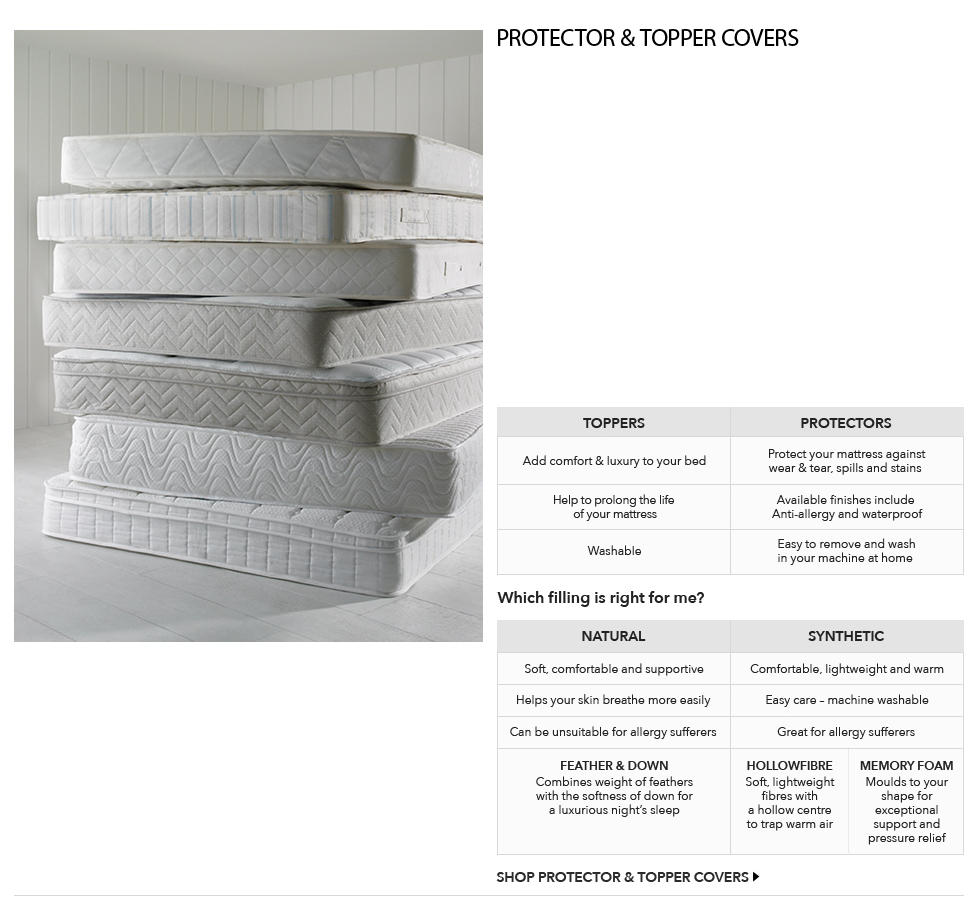 Which type of cover is right for me?
We offer a range of removable bedding to help preserve the quality and
extend the life of your mattress or pillow. These can act as a simple barrier
against wear and spills, relief from allergens or aches and pains, or as a cost
effective way to extend the life of your mattress.

Simply choose the type of cover that suits your needs:
Wear & spills - Choose a Protector, or Waterproof Protector to help to add a comfortable protective layer to your bed.

Allergens - Choose a Non-Allergenic Protector, which is specially treated to
provide additional protection against irritants such as dust mites, bed bugs,
mould and dead skin.

Support & Comfort - Choose a Memory Foam Mattress Topper for a luxuriously thick extra layer that provides extra body support and renews
older mattresses. You can choose from either a 2.5cm or 5cm thick topper.

Comfort - Choose a dual layer mattress topper designed to rejuvenate the comfort of your mattress.
Which type of cover is right for me?
We offer a wide range of beautiful bedwear for all the family. There's
something for everyone: luxurious 300 thread cotton, Jacquard patterns
and silky sateen mixes; cosily cuddly soft cotton flannel or jersey mixes;
and great value, easy care cotton mixes in plain or printed designs.
simply choose the style and fabric that suits your style.

Which fabric is right for me?


• Always follow the care instructions sewn onto the product or on the original packaging.
• Always dry and air your bedding thoroughly before returning it to your bed.
• Avoid dry cleaning natural fibre bedding as the chemicals will damage the filling.
• Asda offers a range of duvet and pillow protectors, toppers and waterproof covers.
to preserve the quality and extend the life of your bedding.