Our Click & Collect service is FREE to a store of your choice and it's now a faster service! If you order before 5 pm you'll be able to collect your order the following day after 5 pm from the store of your choice*. This service is available on all George clothing products.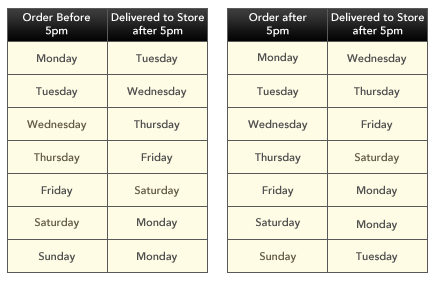 * Please note that this service is not available for remote regions and next day collection is not available on Sunday. Not all products are available for this service, for example we cannot provide this service for large heavy products or products delivered directly from our suppliers. We show a click and collect logo on the product page to identify that this service is available.
When you go to your basket you can opt for Click and Collect and at this stage you can type in your post code to select a convenient store for collection.
As soon as the store receives your order we will send you a text message or email to tell you that it's available for collection. Your order will be held in store for 14 days, after this time it will be returned to our depot and you will be refunded. If you would like us to hold your order for another 7 days please contact the store you selected or call our contact centre 0800 952 0101.
You will need to bring along the payment card that you used when you placed your order and your order confirmation details which shows your Click and Collect order number. This is for proof of purchase confirmation.
Delivery Options & Charges
It is our aim to deliver your order as quickly as possible. We can deliver the majority of our products throughout the UK. Please bear in mind that deliveries to Northern Ireland and Islands may take that little bit longer. Some of our products may come direct from manufacturers, and this again may take a little longer.
Delivery charges will vary depending on what you order; the good news is that you'll only ever pay the one delivery charge per order as long as it is to a single address. The delivery price is dependant on the delivery period you choose and the size of the item; this could be either a standard, named day or next day service. If you choose to include a larger item in your order, then the delivery charge will be at the higher price.
Excluding George items, we do provide a free standard delivery across a number of our products.
Please see below for a list of our charges.
Delivery Period
Delivery Price
George and selected ASDA Direct Small/Medium products
3-5 Day Delivery
£2.95
Named Day Delivery
£4.50
Next Day Delivery
£4.50
Named Day with Time Slot
£5.95
ASDA Direct Small/Medium products
(selected items)
3-5 day delivery
FREE
ASDA Direct Larger Items
5 to 10 day Standard Service or Named Day Service
From £8.95
George and Asda Direct Click & Collect
Order before 5pm delivery after 5pm next day*
FREE
Free delivery on all orders over £40*
*Please note that this offer is for our Standard Delivery service only and excludes Named Day and Next day Services. If you select a Named or Next day service for items in your order you will be charged for that service. This offer is only valid if you spend over £40 which does not include the delivery charge.
Please note that not all products are available for In Store Collection, you can see whether this service is available on the product pages.
Unfortunately at this time we cannot deliver to the Channel Islands or British Forces Posted Overseas.
Back to top