George Information and Services
Customer aiding information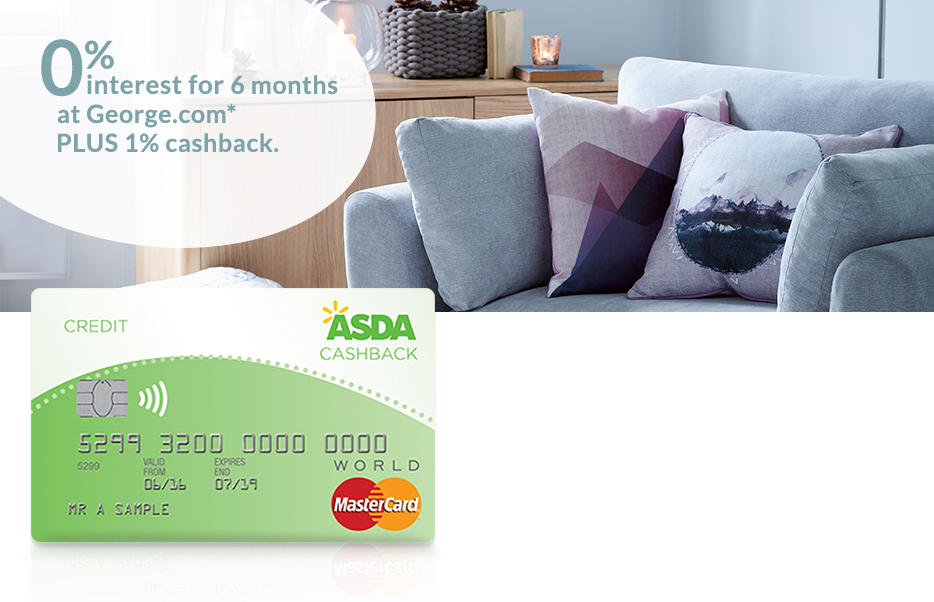 Apply for your NEW Asda Cashback Credit Card during checkout and spread the cost TODAY when you spend over £200 at George.com* (below £700 for new card applicants) on indoor and outdoor furniture.
Great news, not only will you pay 0% interest for 6 months on that purchase, you'll get 1% cashback too. So you can turn what's in your basket into treats.
If you already have an Asda Cashback Credit Card simply select 'Pay by Card' at the checkout to benefit from this offer.
get cashback every time you shop
When you shop at every Asda – in-store, online and George.com.
+
When you fill up at any Asda petrol station.
+

On everything else you buy.
=

To spend in-store

Simple online application.

Quick elegibility check - no negative impact on your credit score.

Instant decision.

Once you receive your card, shop wherever you see the MasterCard logo and earn cashback.
Representative Example:
Standard Purchase
19.9% P.A.
(Variable)
Representative APR
19.9%
(Variable)
Based on assumed
credit limit of
£1,200
 * For purchases of £200 or more online at George.com (after any applicable discount): No interest shall be charged on qualifying purchase(s) for the six months following the date of purchase(s). After the six month period the interest rate for Standard Purchases applicable to the account is then payable on any remaining balance of the purchase. To qualify, purchases must be made at George.com on a valid Asda Cashback Credit Card in a single transaction. When instant credit is granted you may draw up to £700 or your credit limit, whichever is the lower. Instant credit may only be used once and is only offered on selected purchases. Should you wish to purchase goods that are not applicable for instant credit you will not be able to apply for an Asda Cashback Credit Card at the checkout. Your instant credit limit may be lower than your credit limit. The promotion may be withdrawn or extended by Asda Money at any time without prior notice. If you do not make at least your minimum payment on time or you exceed your credit limit you will lose the promotional rate and any balance will be charged at the standard rate.
Asda Stores Limited (Great Wilson Street, Leeds, LS11 5AD), trading as Asda Money, acts as a credit broker not as a lender and is authorised and regulated by the Financial Conduct Authority. Asda Stores Limited only offers credit cards provided by Creation Financial Services Limited. Credit issued subject to status. Applicants must be aged 18 or over and UK resident . Credit issued subject to status.