George Information and Services
Customer aiding information

Shake up your everyday
wear with a monohrome
Aztec print

Bold, graphic, Aztec prints are the perfect
way to get the tribal catwalk look into your
wardrobe. Mix-and-match colours, prints and
fabrics and layer on the accessories for a
look we LOVE. Shop I tribal hit list here...

Perfect for sunny afternoon strolling,
this on-trend cropped shape is an
off-duty must-have

We've been out and about snapping Aztec on
the street. Why not tweet us a pic of youself
wearing our Aztec attire? Just use:
Francesca Quinn was one of five students selected by us
at Graduate Fashion Week 2012. She was approached to
develop her final university catwalk collection and turn it
into a bespoke high street range to be sold at George as
part of our latest G21 range.

Showcased at Graduate Fashion Week, Frankie's
inspiration was taken from her interest in Russian
constructivism as well as iconic sixeties fashion that
is set to be a key trend in 2013.

Established designer Mary
Katrantzou's signature of floral
prints and use of bold colour
also inspired Frankie and she
was keen to encapsulate all these
inspirations into one collection.

Frankie understands the fashion
industry is a tough one to crack
but is determinded to be
succesful. She sees being chosen
to create a high street capsule
collection from her Graduate
Fashion Week as 'the
perfect platform' to kick start her
career. She believes that 'staying
true to your individual style is
imperative' to the begining and
in 10yrs she would love to be
designing for a successful brand
in Europe, namely London,
Barcelona or Italy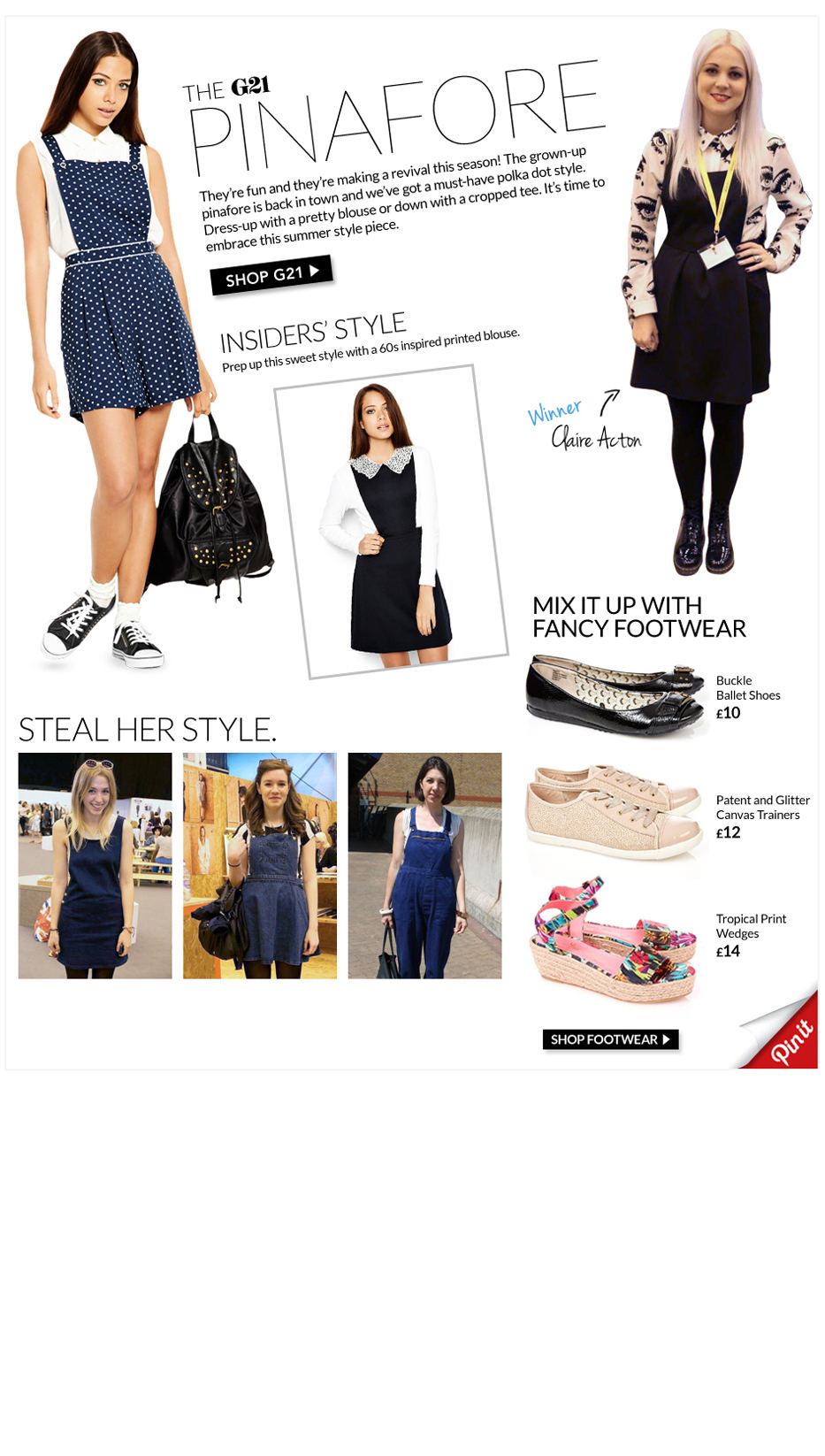 Last years GFW winner
Claire Acton(aka our
ladieswear assistant
designer) Sports a cute
mini-dress at this year's
event
Pinafores were the hottest style around at
Graduate Fashion Week.