George Information and Services
Customer aiding information
Corporate Ethical Responsibility
Our Roots
George was started in 1990 by George Davies and was the first supermarket clothing brand
The company was bought by ASDA IN 1995 and grew to become the largest clothing retailer by volume in the UK today
George sells Ladieswear, Menswear, Kidswear and Footwear in ASDA and ASDA Living stores in the UK and online at www.george.com The brand is also traded by Wal-mart internationally
In 2009 George moved into a purpose built new office and during the build process ensured sustainability was high on the agenda as the building was installed with:

Water efficient toilets with spray taps, waterless urinals
Reduced energy costs through daylight sensors and controlled zones on lighting, double glazed thermally broken system windows with low e-coated and solar reflective glass and VRV 3 pipe heat recovery system
Sustainable products used included 80% recycled yarn carpets, Rockfon Koran ceiling tiles, FSC approved timber, organic clay-based paint finishes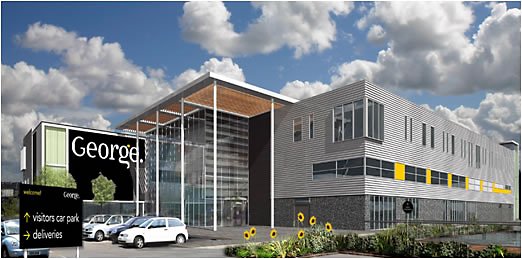 Our Values
The George brand stands for quality, style and value
We put our customers first everyday
We care for our colleagues everyday
We strive to be the best we can be everyday
Our Achievements
Over the past 2 years our commitment to providing our customers with the best in quality, style and value has resulted in us winning numerous awards.
November 2010 Prima Baby Reader Awards
Best Value baby clothes
Best value toddler clothes
Plus Asda voted best value 'Family Friendly retailer'
2009-10 Prima Fashion Awards
Casual Clothes
Childrens Clothes
Supermarket
Highly Commended:
Beachwear
Value for money
Customer service
February 2010 Prima Baby Fashion Awards
Best Value Maternity range
Best Baby Sleepwear
Best Value Baby range
Best Value Supermarket range
November 2010 Practical Parenting Awards
Gold for baby fashion brand
Gold for toddler fashion brand
Silver for maternity fashion brand
Gold for Feeding top/bra
2010 Yours 50-Plus Fashion Awards
Best for Quality and Value
3rd for Best for Everyday Wear
2010 Tommy's Lets Get Baby Friendly
Runner up Best children's wear retailer
October 2009 Prima Baby Reader Awards
Best Value Baby Clothes Range
Best Value Toddler Clothes Range
September 2009 Prima Fashion Awards
Best Children's Clothes
Best Supermarket Range
Best Value for Money
June 2009 Prima Baby Fashion Awards
Everyday Wear
Best toddler retailer
Best supermarket range
Best value range
Best value maternity
Commended:
Baby & Toddler Retailer of the Year
Best Baby Retailer
Sleepwear
Outerwear
2009 RSPCA Good Business Awards
Fashion Large Company Winner
2009 Yours 50 Plus Fashion Awards
2009 Practical Parenting Awards
Gold award in the pregnancy product category for the Maternity Bump Belt
2008 Prima Baby Reader Awards
Best Value Baby Clothes Range
Best Value Toddler Clothes Range
2008 Company Fashion Awards
Training & Education at George House
How are George training their suppliers and colleagues?
We audit production sites
Hold training and education sessions for our buying teams and for the factories and suppliers
Hold supplier forums and factory development programme's to bring suppliers and factories together to review their operations and share best practice
Monthly briefings for new starters to the business outlining our ethical standards & gain feedback
Annual ethical standards programme for designers, technologists and merchandisers. In February 2009 our one day conference was attended by 300 suppliers plus NGO, Union and academic representatives.
We are regularly invited to share learning's with other organisations i.e. in 2008 & 2009. (Click here to view the following organisations [Open] [Close]).

2009:

United Nations Human Rights Council, Geneva June 2009
International Supply Chain and Logistics Conference, Dusseldorf 2009
United Nations Food and Agriculture Organisation, Rome April 2009
University of London, London April 2009
Innobev Global Congress, Cologne March 2009
Royal Geographic Society, London February 2009

2008:

UK's Annual Oxford Farming Conference, London January 2008
International CIES Conference, Amsterdam February 2008
Supply Chain Risk Management Conference, Rotterdam November 2008
World Food Technology & Innovation Forum, Rotterdam November 2008

Bespoke buying training program to be rolled out in Oct 2009 with ETI to give awareness of the impact of buying decisions on the production floor
Suppliers are debriefed on their performance via a programme called the 'Orange Academy'
Ethics
Our corporate ethical responsibility is to ensure George is recognised by customers and colleagues as a trusted and innovative leader in the field of ethical sourcing and environmental protection and over the last two years we are focused on 3 main areas: Ethical, Sustainable packaging and recycling
Ethical Code
At George we are founder members of the Ethical Trade Initiative (ETI) and use this as a starting point for our ethical standards. Over the past 10 years Asda/ George has worked hard to promote the welfare of workers in the countries from which we source. Historically our programme of work has relied heavily on a programme of production site audits, conducted against a voluntary code (the ETI Base Code, which addresses such points as child labour, forced labour, working hours, freedom of association and living wage), going forward we will expand this further as explained below.
We currently use 226 suppliers though 544 factories across Asia and Europe with our biggest manufacturing countries being China and Bangladesh. Each year we conduct approximately 500 ethical audits specifically across our George clothing factories and processing plants. Each audit takes a minimum of one day, is conducted by two independent auditors, and involves interviews with workers, site inspections and document reviews.
Audit and Manufacturing Process
All factories used for George production must be ethically audited first before they are signed off to use for production. Once the audits are conducted a risk assessment process is carried out and factories are graded using a traffic light system.
We use independent third party auditors to conduct our audits, and also call upon a team of 140 colleagues within the Walmart ethical standards department not only to conduct audits but support supplier development by coaching and sharing of best practice and legislations. (Click here to view audit process & results [Open] [Close])
Audit Process
All sites that want to produce for Asda/ George, will receive an initial audit. Following the audit, results are assigned a colour status against the 9 point Base Code, subdivided into approx. 180 categories.
Green = no issues found and the site will not be revisited for a minimum of 2 years.

Yellow = minimal issues and the site is required to develop a corrective action plan and a re-audit is scheduled for 1 year's time.

Orange = major issues, the site is required to develop a corrective action plan and is re-audited within 6 months.

Red = major violations occulting like child labour, the site has 30 days to appeal, before being delisted.
Where a site has been graded Orange 3 times (not necessarily consecutive) within a period of 2 years that site will be delisted for up to 1 year. Audits are then continually carried out on all our production sites.
We will not take on any new factories until they are graded yellow or green.
As we have tracked the results of our audits and re audits, we have seen significant improvements in the way in which production sites have addressed labour standards including wages and freedom of association issues. However, industry experience is that there are still violations of voluntary codes throughout supply chains globally, and the general view of many stakeholders is that audit-centric programme's must be supported by other, innovative approaches.
We value collaborative efforts especially with levels of complexity that are difficult to resolve solely through audit programme's. This is not to say we intend to cease our audit programme, quite the contrary, we will maintain our site audits and continue to seek ways to improve on these (for example, in 2009 we moved to 100% unannounced audits, conducted a pilot project of audits witnessed by an NGO and, for a number of years now, we have maintained a 'whistle blower' number published in the factories that source for us, enabling workers to call anonymously to report on labour standards violations).
To this end, 2008 saw a departure from our traditional, audit-centric (policing) approach to a methodology which we believe will allow us to support our suppliers and their factories in addressing systemic issues.
This is being done through a variety of different approaches
Working closely with the factories and engaging with management to drive change
Coaching and training middle management on CSR requirements
Educating workers so they understand what they are entitled to - some thing as simple as reading a pay slip and what information they should expect on a pay slip.
Conducting workers interviews off site through local NGO'S so we get a total picture.
Community Projects
Following a listening group with Action Aid and a number of factory workers in Bangladesh we have decided to invest in ensuring our factories do not waste cost, therefore protecting the worker's salaries.
We have partnered with GTZ who are a German organisation based in Dhaka to work closely with our factories to help improve productivity and efficiency by reducing waste. Working with 5 Factories in Bangladesh, we have introduced a programme to retrain workers, improve and reengineer production flow, and reduce product damages and down time. It is anticipated that this work will:
Empower the work force through improved skill levels
Increase earning potential for workers such that they enter skilled pay band levels
Reduce working hours to support a better work/life balance.
The project is in phase 4 (Implementation stage), with each factory currently setting up production lines to run over the next few months, utilising the training and coaching given by industry experts from Sri Lanka.
Packaging
One of our largest areas of store waste has been coming from the amount of packaging we use to transport our garments from factory to distribution centre and on to store. So in 2008 we embarked on a packaging reduction programme that has so far reduced our hanging packaging by 1200 tons of plastic a year by only shrouding our white and delicate items.
For the rest of 2009 and 2010 we are focusing on our boxed product to remove packaging and ensure that we move goods around the world in the most efficient manner.
During 2008 one of our biggest focus areas has been on making our garment packaging more sustainable. To date we have saved 204 tons of card by changing our sock and bra packaging and 564 tons of plastic through moving the vast majority of our bagged product to PPE from PVC. Whilst we still have some PVC in the supply chain we are working hard to eradicated this by 2010.
We are now working to ensure all our paper based packaging and point of sale comes from FSC or PEFC certified forests and that all our packaging contains recycling guidelines for our consumers.
Carrier Bags
2009 we used 24 million carriers, for 2010 we plan to reduce our usage by 18% (inclusive within total Asda business reduction target). To help give customers an alternative we launched a reusable bag within George and have also launched a new design reusable bag which was designed by a pupil from Nottingham Trent University.
Recycling
Hangers
In 2009 we recycled 38 million hangers. Our target for 2010 is 70 million.
In line with the Asda target we have been aiming to ensure our George departments in store are zero waste. To contribute to this we are in the process of giving all our damaged and recyclable clothing from stores to the New Life Foundation. This ensures that all our clothing is either sold to customers, recycled through the New Life Foundation or sent by the foundation for reuse in other industries such as mattress fillers.
Damages
From June 2009 - All George clothing damages were sent through to the Newlife charity, for recycling and reuse. This enabled us to meet our target of sending zero clothing waste to landfill.
Consumer Recycling
Asda's main recycling partner for clothing and footwear is the Salvation Army. We are committed to encouraging our consumers to donate all their unwanted clothing and together with the Salvation Army will launch new recycling bins across all stores where 60% of the proceeds will go to Children in Need
The Future...
To build on our achievements so far we will continue to collaborate with NGO's and other retailers and organisations to ensure that together we are enabling our customers to get the best quality, style and value combined with programme's that ensure we are committed to everyone involved in contributing to George product and to the environment it is produced in.
During 2009 we have joined the DEFRA sustainability clothing roadmap and look forward to working with them closely to research and develop new ideas to make the clothing production process more sustainable.
If you have any questions about any of our sustainability policies or practices please contact the Press Office:
PR
Asda House
Southbank
Great Wilson ST
Leeds
LS11 5AD
Tel 0113 2417829
pressoffice@asda.co.uk
Keep up to date from week to week with all George's ethical and environmental issues