Xbox One
Category Hero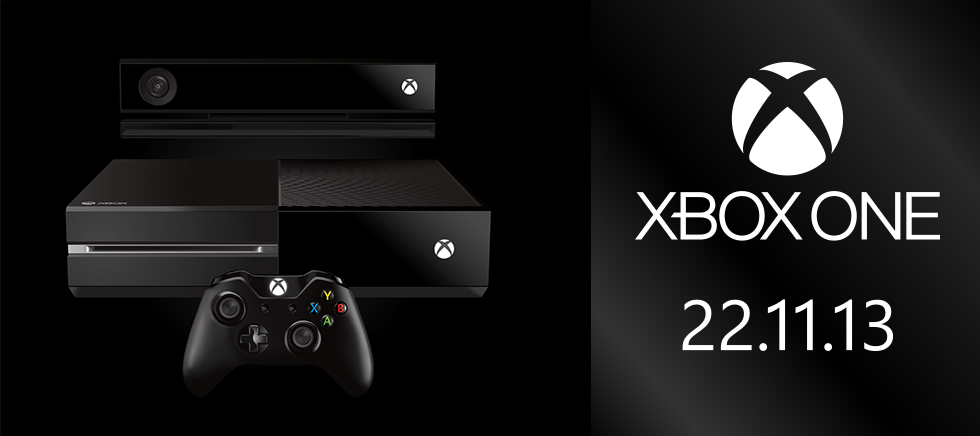 Be amazed
Welcome to a new generation of games and entertainment. Where games push the boundaries of realism. And television obeys your every command. Where listening to music while playing a game is a snap. And you can jump from TV to movies to music to a game in an instant. Where your experience is custom tailored to you. And the entertainment you love is all in one place. Welcome to the all-in-one, Xbox One.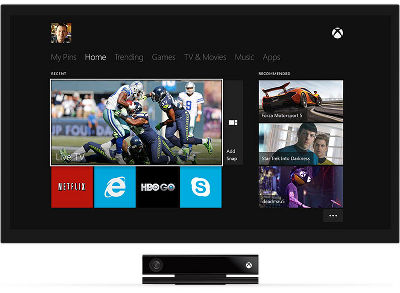 Simple. Instant. Complete.
Xbox One is a state-of-the art gaming console, a new generation TV and movie system and a whole lot more. Gone are the days of switching inputs on your TV to play a game or watch a movie. With Xbox One, you can quickly jump from TV to movies to music to a game. Just with the sound of your voice.
Be immersed.
With Xbox One, games are so lifelike, you'll swear they're real. Immerse yourself in cinematic worlds with characters that are more human than ever. And reach into television, sports, music, and even the web in ways you never imagined possible.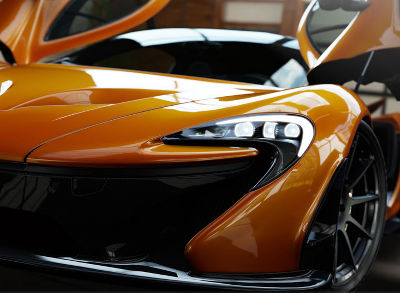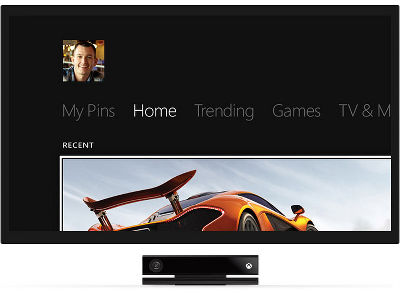 Be recognized.
Xbox One gets to know you. It learns what you likeand what you don't. And brings it all together on your own personal home screen. And because every Xbox One comes with Kinect, it responds naturally to your voice, movements, and gestures. Say goodbye to the days of one-size-fits-all entertainment.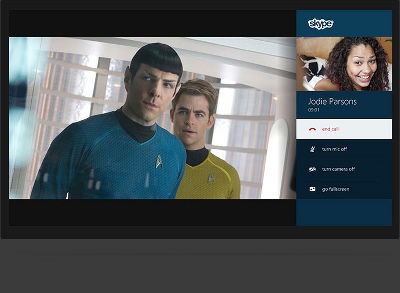 Be connected.
Together with Xbox Live, Xbox One brings you closer to the entertainment you love and the people you care about. You can chat with your friends on Skype while watching football on TV. And when Xbox One is connected to Xbox Live, you won't have to wait around for game updates. It looks like the living room can finally start living up to its name.
Cutting-edge design meets cutting-edge technology.
Xbox One delivers an entertainment experience like nothing before. Its innovative technology is rivaled only by its iconic design. Sharp corners and clean lines make for a sleek, modern console that complements any decor. Xbox One was designed from the ground up to be the centerpiece of every living room.
8 Cores

An 8-core x86 processor lets you instantly switch between a game and your entertainment apps with ease.

HDMI Pass-Thru

Connect your cable or satellite box to your Xbox One and prepare for lift off. HDMI pass-thru enables you to watch TV through your Xbox, which makes switching inputs seem almost pre-historic.

Loaded with memory

8GB of RAM and a 500GB hard drive give you plenty of memory for your games, demos, movies, apps, music, and more.

Blu-ray

Watch movies and play games in stunning HD with a Blu-ray player.
A one-of-a-kind architecture.
Xbox One was designed to be the most advanced gaming console ever, and the best entertainment console. To make that possible, we did something unprecedented. For the first time ever, we created a state-of-the-art gaming OS and fused it together with a powerful Windows OS. So you get the best of both worlds, without compromise. Forget about having to switch inputs to watch TV or play a game. Now you can run host of apps right alongside your game without any loss of performance.
Always ready when you are.
Xbox One wakes up instantly, so it's always ready when you are. Because less time waiting means more time playing.
Split your screen. Not your time.
Ever wish you could chat with a friend on Skype while watching the playoffs? With Snap you can do both at the same time. On the same screen.
Jump around.
Instantly and effortlessly jump back and forth between a game, TV, music, and apps. Now there's no need to back out of one experience before you jump right into another.
Play with peak performance.
Xbox One is the perfect balance of power and performance. In addition to Xbox One's revolutionary architecture, the combination of its CPU, GPU and ESRAM is like having a supercomputer in your living room. But raw power is nothing without speed. So the Xbox One uses its power more effectively, creating lightning fast experiences unlike anything you've had before.
All the entertainment you love. All in one place.
From the biggest blockbuster games to the most popular TV shows to the best of the Web, Xbox One does it all. But this is just the beginning. Thanks to the power of the cloud, Xbox One will keep getting better, with more games, TV, movies, music, and apps launching all the time.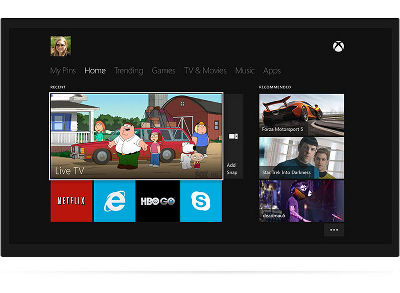 Home sweet home screen.
Xbox One's custom-tailored experience starts atHome. From the moment you say "Xbox On,"you'll be instantly recognized and welcomed by a personalized Home screen with all your favorite games, apps, and content. You can pin movies, music, and more for instant access, so that the things you love most are right where you want them.
Always ready when you are.
Xbox One was designed for today's fast-paced lifestyle. It wakes up instantly when you say, "Xbox On," and even turns on your TV. Downloads and updates happen behind the scenes, so you can jump right in.
If you love gaming, this one's for you.
Xbox One was built by gamers, for gamers. The perfect balance of power and performance, Xbox One takes gaming to a whole new level. Stunning realism. Advanced AI that adapts to the way you play. And a new generation of multiplayer that is both smarter and faster. Xbox One is simply the best gaming console we've ever made.
Forza Motorsport 5
Where dreams are driven.
Forza Motorsport 5 is a cinematic automotive journey starring the world's greatest cars and tracks. Built from the ground up to take advantage of Xbox One and the vast power of the cloud, no game better delivers the wide-eyed thrill of racing.
Ryse: Son of Rome
Amidst the chaos of the late Roman Empire, become soldier Marius Titus and embark on a perilous campaign to avenge the death of your family. Through the immersive realism made possible by Xbox One, you'll experience brutal skirmishes and massive battles as you fight to restore honor to Rome at any cost.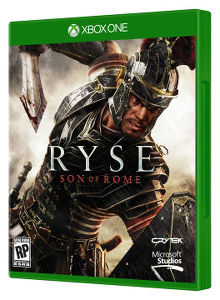 Dead Rising 3
Where dreams are driven.
Anything and everything is a weapon in Dead Rising 3. Explore the city of Los Perdidos, scavenge for supplies and improvise new weapon combinations as you fight to survive in a massive open world overrun with zombies.
Kinect Sports Rivals
There's a champion in each of us just waiting to come alive. Kinect Sports Rivals brings online sports competition to a world made possible only with the power of Xbox One. The new, unparalleled Kinect technology captures your likeness and plunges you into a world of exhilarating sporting events against friends, rivals, everyone. It's You vs. the World.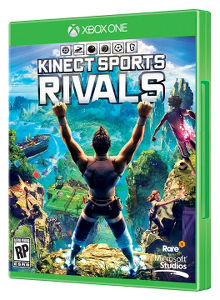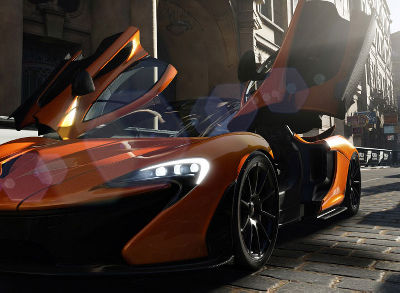 As real as real life.
Immerse yourself in cinematic worlds that look like real life, with characters that feel more human. Advanced AI technology and the processing power of Xbox One make game worlds come alive. And thanks to the power of the cloud, what you do in a game can stay that way persistently. Xbox One's unique architecture allows creators to build realistic, cinematic experiences of the highest fidelity possible.
Your games keep playing, even when you're not.
Just because you're not playing doesn't mean your games have to stop. With Living Games technology and the power of the cloud, game worlds can be persistent. So the things you do in a game will stay that way. Plus your games stay in sync with the real world, which means the latest stats can be automatically fed into your sports games. Advanced AI even allows your friends to play against your shadow when you're not available. With Xbox One, the game never stops.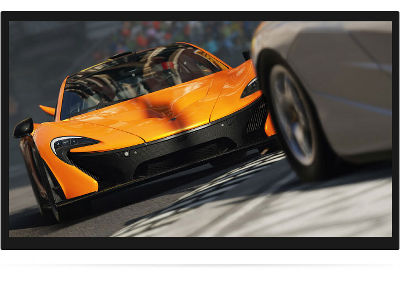 A new generation of Xbox Live.
Unleash the power of the cloud with a new generation of Xbox Live: the network that unites every member of the Xbox community. It also connects you to thousands of games, songs, TV shows, movies and sports. More importantly, it's a scalable source of power that will grow stronger over time. And because it's all one service, your Xbox Live Gold membership will work on both Xbox 360 and Xbox One.
Your games keep playing, even when you're not.

Living Games technology allows game worlds to keep going even when you're not playing. So you never know what new things you'll find the next time you play. And advanced artificial intelligence can learn to play like you. So when you're not around, your friends can still play against your shadow.

Your games stay in sync with the world.

Imagine the player stats in your sports game being updated automatically based on the weekend's results. It's now possible with Xbox One. Thanksto the power of the cloud, game worlds stay in sync with the real world.

Play without the wait.

With Xbox One, you can start playing immediately as games install. And updates install seamlessly in the background, so your games and entertainment won't be interrupted.
Sponsored Links (What's this?)
No sponsored links available
Sponsored Links
Asda Direct's Sponsored Links are provided by the Google AdWords™ program. Companies pay for these links to have their products and services appear with specific search terms. These listings are administered, sorted and maintained by Google.
Clicking on sponsored links will take you away from Asda Direct. The website you link to is not endorsed by Asda.