Product Image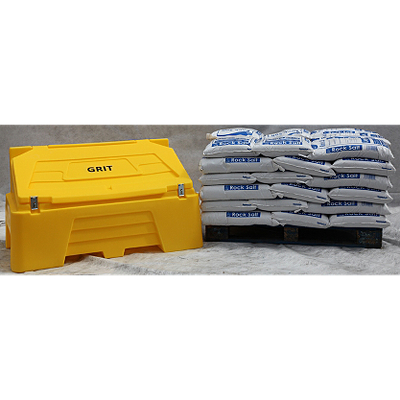 Product Details
Description
A natural salt produced in Egypt, this de-icing salt is over 98% pure, making it one of the most effective de-icers available.
Contains an anti-caking agent in order to ensure free flowing application. The purity of this salt also means that there is no sludgy residue remaining once ice and snow has melted, making it a far cleaner alternative to traditional rock salt. Each large pack contains at least 23kg of salt. Also includes a Salt Bin in order to allow storage of the salt outside for ease of access.
This bin is made of tough, medium-density polyethylene, making it highly resistant to the elements. A hinged lid provides ease of access to any stored salt and protects the salt from wind and rain when closed.
This size bin holds up to 20 large packs of salt making them ideal for larger streets or even large car parks and business parks.
Pack Colour: White and blue packaging containing a brown salt. Bin Colour: Yellow
Full Specification
| | |
| --- | --- |
| Colour | Yellow |
| Dimensions | Individual Bag: 38x10x50. Bin: 126x75x71 Delivered Product 100x126x161 |
| Material | Plastic |
| Product Type | De Icing Salt |
| Type | Winter Motor |
| Weight | 1060Kg |
| Brand | Online Rock Salt |
---