Product Image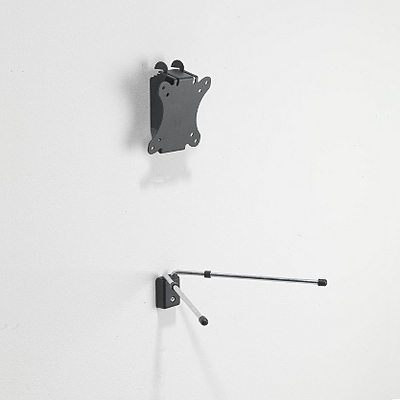 Product Details
Description
The Troy flat and tilt TV bracket and AV shelf is ideal for small TV and a digital TV box, or DVD / Blu-ray players.
The bracket allows the TV to fit just 4cm from the wall and can be tilted for the best viewing position. The shelf can be positioned where you want near the bracket. The bracket can hold a maximum weight of 15kg. The Shelf can hold a maximum weight of 5kg. The bracket and shelf are easy to install and come with a selection of screws to fit the bracket and TV together.
This Bracket is designed in the UK and is Manufactured using good grade steel, and is an all round, good quality, well finished, great value bracket.
From the Manufacturer

|
Full Specification
| | |
| --- | --- |
| Size | 27 |
| Colour | Dark Graphite |
| Holds Following Screen Sizes | 13 to 27 Inches |
| Accessories Included | Screws supplied |
| Dimensions | W12 x D4 x H12 cm |
| Material | Metal and Plastic |
| Maximum Screen Size (inch) | 27 Inches |
| Product Type | TV Brackets |
| Maximum Weight | 15kg |
| Top Shelf Maximum Weight | 5kg |
| Tilt Action | true |
| Swivel Action | false |
| Cable Management | false |
| Type | TV & Audio Accessories |
| VESA Minimum Size | 75x75 |
| VESA Maximum Size | 100x100 |
| Weight | 0.8kg |
| Brand | Troy |
Rated

4.7

out of

5

 by

49

reviewers.
Rated

5

out of

5
 by
Scousefella
Really Good Value
Having looked, and had my eyes watering, at the prices of other 'combination brackets I plumped for this little gem. I assumed that its cheap price meant that I would only get a cheap product but it has exceeded expectations. It@s well made, sturdy, holds my TV, and Virgin digi box, securely and does the job really well. Definitely recommended!
18 December 2012
Rated

5

out of

5
 by
Ihateshopping1235
Great Purchase
The bracket and shelf were very easy to put up and now the TV and Cable Box are in place you cant see them. The price was good and the sale price even better! I ordered this item on Saturday afternoon and it was delivered on Monday morning, how's that for fast delivery. I would definitely use Asda Direct again as it was so painless.
27 October 2011
Rated

4

out of

5
 by
Sandiebear
good value
Unfortunately had to return item as I had bought Asdas 16" tv and the bracket was not suitable for the small 50mm fitting on the rear of tv, wasnt very clear in the description on web site but was on the box though not in large print. Would have been ideal otherwise, especially at the offer price.
04 May 2012
Rated

5

out of

5
 by
peppapigg
excellent cheap bracket
When i purchased this item i wasn't aware that the AV shelf was also included,which made it even more of a bargain purchase.Although it was sooo cheap it didn't by any means not suit the job for which it was inended.It was really simple to fit really easy instructions and an alround excellent buy.
27 February 2012
Rated

4

out of

5
 by
KJfan
Bargin or what !
Needed to mount v+box under wall mounted telly. Ideal and looks like v+box is hovering! TV bracket compact. Would recommend . Screws supplied not the best but at this price its a bargin. First time using asda click and collect, found it easy and look forward to using again.
17 December 2012
Rated

5

out of

5
 by
MrGoodkat101
An utter bargain
I purchased these items for our bedroom. I wanted an understated AV shelf for our satellite receiver to be positioned underneath our TV. It was quick and easy to install with no fuss at all and looks great. At £5.25 for these items the value is unbeatable...
23 January 2012
Rated

5

out of

5
 by
shaunybabe
brilliant product
this product is just what i was looking for not only can you have your telly on the wall but now i have my digi box on the wall aswell it looks great but also free,s up space excellent would certainly reccommend this to a friend
12 January 2012
Rated

3

out of

5
 by
Teps
Ok, but not recommended
The bracket is solid and fits well into the wall, but it doesn't allow you to tilt your TV that much, which could be inconvenient. The shelf saves it, it's really pratical for a DVD/Blu Ray player to place under your TV.
16 December 2012
Rated

5

out of

5
 by
Geod
TV bracket and AV Shelf mount for TVs up to 24ins
I can highly recommend this product, as it small but very strong and effective, simple to install and, is well concealled when in place, I have installed a few now. I would recommend that you order it on line .
26 March 2012
Rated

5

out of

5
 by
170quattro
Fantastic
This Product is excellent value for money. very easy to install,very strong and robust. not only that but you also get all the fixings you need plus bolts and washers for the tv plate to fit to.
27 February 2012
Rated

5

out of

5
 by
barginhunter101
good product
Bought for pc monitor, quality item, well made, will do the job well, threw away shelf thing only wanted bracket came with multiple fixings, was less than half instore price! BARGIN!!
23 January 2012
Rated

4

out of

5
 by
pegs78
Does the Job
Unfortunately 2 out of the 3 screws that came with the product snapped when drilling into the wall so had to replace. Now iit is fitted does exactly what we want for a Bedroom tv
28 February 2012
Rated

5

out of

5
Geat for the kids room
Got this bracket for our little girls room, and its ideal , she now has her little pink tv on the wall and skybox on the bracket, its great for getting her to go to bed lol,
22 March 2012
Rated

5

out of

5
 by
Nicmg
Superb - great value
Tv bracket adjusts to 4 different tilt positions - just what we needed, and the av shelf is perfect for the DVD player. Just what we needed and fantastic value for money!
15 December 2013
Rated

5

out of

5
 by
kmarie1607
did the job great
This product was great. Easy to put up and very secure when tv in position. The av shelf was a great added bonus and could easily fit ps3 or virgin box on
05 February 2012
Rated

5

out of

5
 by
Norman53
Absolute Bargain
One of the few TV brackets that come with an AV mount, simple to install and adjust plus it came with fixings for all types of wall construction.
25 January 2013
Rated

5

out of

5
 by
Driver74
Bargain for money and great service
For price, ease of set up, delivery and up to date information on delivery, this has to be some of the best service ever. Very easy to install.
01 April 2012
Rated

5

out of

5
 by
SnakeS
Fab item
Great bracket fits close to the wall.Comes with two arms which act as a shelf so you can put either a DVD player or free view box.Fab value
12 May 2012
Rated

4

out of

5
 by
dylan1
value for money
bought it to hang 19 '' tv done job ok . easy to put up. i used the av shelf for my mates sky box fitted it just under his tv. looked good.
28 May 2012
Rated

5

out of

5
 by
Bigtone45
Great product
I've used this bracket for my cctv monitor and hard drive and its just the business and at the price well need I say more first class.
13 March 2013
Rated

5

out of

5
 by
OPALLADY
great buy
i brought one of these before for my bedroom and though it was great so got 2 more one for my other room and one for my daughter
21 January 2012
Rated

4

out of

5
 by
viennageoff
Great bracket!
Great little tv bracket, easy to install and close fitting to the wall so the tv does not stand too proud of the wall.
20 May 2012
Rated

5

out of

5
 by
lindaanne
tv bracket
this is a great value product and so easy assembled.. i would recommend this bracket for all flat screen tvs..
09 March 2012
Rated

4

out of

5
 by
princesspotts
great pirice
bought this for just the dvd shelf still cheaper than others plus still got the wall bracket for another time
02 May 2012
Rated

5

out of

5
 by
Veryhappychappy
Excellent value
As it says on the tin. Ideal for the tv and sat box. Easy to install , a very happychappy indeed.
19 February 2012
Rated

5

out of

5
 by
LJKSH
Excellent Product
Product was exactly as described and did the job for which it was designed. Easy to fit as well.
25 May 2012
Rated

5

out of

5
 by
Campbell1888
Excellent value for money
I bought this primarily for the shelf. A strong robust design. For the price excellent value
23 February 2012
Rated

5

out of

5
 by
jim58
For bedroom tv
Nice and easy wall mount for small bedroom tv, simple to fit and does the job perfectly.
28 December 2011
Rated

3

out of

5
 by
paulypaul
tv bracket
good value tv bracket but has limited tilt and it tends to trap cables against the wall
01 February 2012
Rated

4

out of

5
 by
lanky57
really good value for money
i was really pleased with this bracket easy to put up cheap price does the job great
12 March 2012
---