Product Image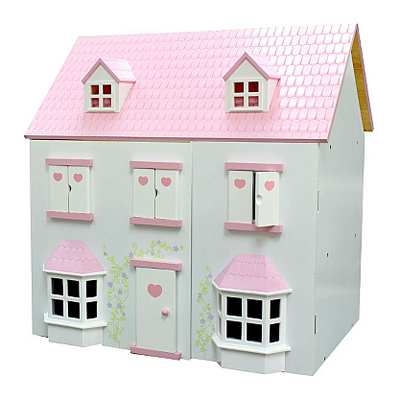 Product Details
Description
The wooden doll house is a wonderful toy for your child and friends to play with. Once built, the solid free standing wooden house is a beautifully constructed house ready to provide endless fun.
The house has been designed and detailed to encapsulate the feeling of modern English housing with its 3 story, four bedroom layout. This will aid your child's understanding of how a house is structured as they move through each room within the wooden doll house.
Your child will be able to interact with the house easily with its double opening front doors and removable roof, enabling them to play anywhere in the dolls house easily.
Features:
The wooden dolls house is a pink and white coloured solid wooden structure with a pink roof and white outer front and sides.
Each hinge opening window and front door has been decorated with pink love hearts.
The house has an open hinge front door, 2 bay bottom level cut out windows, 3 dual open hinge second storey level windows and 2 roof cut out windows so that your child can see through and interact the dolls house.
The wooden dolls house is also accessible from above with its removable roof, so that kids can interact with second storey and third storey.
Each level has its own staircase, so once assembled your child can move dolls around the house in a natural manner.
It has four main rooms on the first and second floors, and a converted attic on the third storey.
Full Specification
| | |
| --- | --- |
| Dimensions | 60.5L x 46.2W x 61.8H cm. Boxed dimensions: 86.2 x 13.4 x 48.3 cm. |
| Material | Wood |
| Minimum Age | 36+ Months |
| Model Number | 38433 |
| Product Type | Doll Houses |
Rated

4.4

out of

5

 by

65

reviewers.
Rated

5

out of

5
 by
JaneC951
Excellent Value - Good Sturdy House
This took me 2 hours to put up on my own (a second pair of hands might have been useful at times). The instructions looked daunting but were ok once you got into it - they're just a series of small pictures. It's solid, well built and looks great! One review on here said the front didn't shut properly. I had the same problem originally, the door would shut but pop back out of the catch, but on closer inspection I'd put the hinges on that door the wrong way round (can be difficult to tell from the little pictures). I suspect the earlier reviewer may have done the same because once I'd put them on properly the door shuts perfectly. Overall, a very good purchase and well worth the money.
21 November 2013
Rated

5

out of

5
 by
sparkles9
great purchase
fantastic dolls house lovely and solid wood and well made, they sell a couple of different sets of furniture for different rooms which are also lovely with some tiny people included
14 October 2013
Rated

2

out of

5
 by
ksug
Third time lucky
Purchased this lovely dolls house in store for my Nieces Christmas present, but after reading many reviews here reporting building issues I decided to try building it mid-November, in case we experienced any issues....oh and did we have issues… 1st attempt - roof screw points were drilled in completely wrong place therefore had to return in store for replacement. 2nd attempt - the screw points on the house side were not in line with the back, hence screw punctured the laminate and did not secure....returned in store 3rd attempt, with a lot of adjustments we finally have a complete dolls house which unquestionably is gorgeous! However, my recommendation is I would certainly not leave the build to Christmas morning, to avoid upset for child and adults alike....!
03 December 2013
Rated

4

out of

5
 by
JimmyGtheJock
Smart Looking Doll House
I was surprised that it was very easy to build due to some previous reviews. A handy tip is to not to tighten all the bolts/screws until it is fully assembled and be careful not to over-tighten (it's easier to tighten up something that is loose rather than have to repair it once it is broken). I got a bargain in the sale and marked the value as excellent but not so sure about the full price. There are two sets of furniture/dolls to go with this house that are bought seperately and they compliment it well. Both granddaughters love it (and the accessories) and should enjoy it for a long time but it is too soon to comment on reliability, although it feels sturdy enough.
11 February 2014
Rated

5

out of

5
 by
Smudge60
Excellent quality
Bought this dolls house for my grand-daughters birthday and she loves it. Good sturdy house with lots of detail.
29 October 2013
Rated

5

out of

5
 by
Glamgrann
Superb childs dollshouse
Astonishing value and quality - it is flat-packed of course, and takes some making up, but with the help of some glue, it is solid and has great play value for a young lady. I bought it for a 4 year old, and I would say it is suitable to buy for up to 8 - older might want more sophisticated. I was going to make one from scratch - absolutely no point as it would cost me as much, if not more. A great buy - as was the furniture that can be bought alongside - not worth making it!
27 November 2013
Rated

5

out of

5
 by
tamsinsky
better than expected
very pleased with dolls house great value for the money good quality, ordering was very easy kept me in touch about times of delivery would order from asda direct again
29 October 2013
Rated

1

out of

5
 by
NatNatNoodle
Extemly angry and dissapointed!!!
I bought this a few weeks ago for my 5 yr old daughters Christmas present. Im sitting here now, on Christmas eve...angry at the outcome of putting the house together. Im capable of building flat packs and similar items and also following instructions properly. Thats not the problem here. Myself and My Wife started putting it together no problems...and getting about half way through, we came across misaligned holes and a screw/bolt that stuck ( the bolt thread was dodgy ) It was a little problematic, but we sorted it out and just assumed it was a one off. The next 2 screw bolts were the same. To cut a long story short, two of the screws got jammed on a dodgy thread...and Im unable to tighten or loosen 2 of them. Trying to unscrew the bolts have churned up the wood of the surrounding areas...and basically made a total mess of the house. I cant even take it apart to return to the store for a refund/replacement...so it will be going back half made so they can see the issues Ive had with it. It does look like a decent house, but has been let down by misaligned holes and really poor quality screws/bolts etc Normally I wouldn't be too angry, but my daughter will now be without one of her main presents tomorrow on Christmas day, and typically, a lot of her other presents were furniture and items for the house. Not happy at all.
24 December 2013
---