Product Image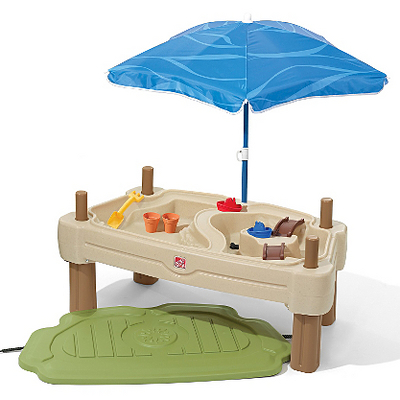 Product Details
Description
New 2014 Colours. All-in-one adjustable table features both sand & water fun!
Features:
Sophisticated, fun styling
2 separate sides: one for water, the other for sand
"Grow with me" legs raise unit 4" (10.2 cm)
Includes drain plug, one-piece plastic cover with molded-in roadways and elastic tie-downs, removable 40" (101.6 cm) umbrella, and 7-piece accessory set (sand not included)
Holds 10 lbs (4.5 kg) of sand & 3 gal (11.4 L) of water
Minimal adult assembly required
Full Specification
| | |
| --- | --- |
| Dimensions | 58.4 x 108 x 61 cm |
| Material | Plastic |
| Minimum Age | 24 + Months |
| Model Number | 843600 |
| Brand | Step2 |
Rated

4.5

out of

5

 by

68

reviewers.
Rated

4

out of

5
 by
Sara B
Lots of fun, but could be better!
My daughter received this as a gift from her grandparents and it's very nice. My daughter and neice use it out on the deck to play in the water (we haven't tried sand yet since they like to throw it). I love the table for the ease of construction, the cover, and the umbrella. However, even on a slightly windy day the umbrella can fly up and take off on our deck. I noticed on some other kid umbrellas that there is a small clip to keep it secured. I wish this unit had one of those...we may have to check the local hardware store to find something to hold it in place. And, the boats are fun, but the bridges fall into the water when the girls push the boats across. We actually bought some little race cars for them to use on the tracks as well.
12 May 2011
Rated

5

out of

5
 by
Lucky Grandma
Sturdy, practical & oodles of fun!
I bought this as a get well gift for my 2 1/2 year old grandson who lives in a house with a backyard. I didn't think it would be good to get for my 1 1/2 year old granddaughter because she lives in an apartment with no yard. How wrong I was! They keep hers on a covered deck where she has plenty of room to safely splash and play! This gift was a hit with both the boy & the girl. And both sets of parents really appreciated the tightly fitted cover and the adjustable legs.
19 May 2014
Rated

5

out of

5
 by
Grammy of 8
Perfect if you don't want a mess!
I have one one in my yard and now all 3 of my daughters have it in their yards. We don't over fill it with sand so it is easy to clean. Lot of kids can gather around it to play. We keep a bucket under it with all the sand toys in it so we can close the lid tight (no cats) Easy to store for the winter...but a toy that they use 10 months of the year. The kids stay relative clean since thay are standing and not sitting or crawling in the sand! Great value for the price!
18 July 2013
Rated

3

out of

5
 by
TieshaT.
Cute table
This table is meant for a smaller child or a toddler. My pre-schooler who is 4 is tal for her age and has to bend over to play in it. Luckily I have 4 children and my baby can use this table when she starts walking. Also the holes where you are suppose to screw in the nails are non-existant so I had to use a knife to poke a hole in the table so that I could screw in the screws. It is a fun table for kids who are small or younger so I would recommend it.
11 June 2012
Rated

4

out of

5
 by
MomofTwins
Sand and Water Table
My kids have really enjoyed playing with the table and it is fairly easy to take with us. The table itself seems very durable. However, we've already had the umbrella spokes break on us, which is disappointing. The main reason for purchasing this table was for the umbrella and the added shade. I still will definitely recommend it to a friend because my kids love it and it keeps them entertained for quite some time, a rare feat with 2 year olds.
11 July 2010
Rated

4

out of

5
 by
Lindsey
My two year old loves it.
My toddler loves this. It keeps him entertained for hours. The only problem is that it is a mess. Getting the sand off of him after he's been playing is impossible. I knew it would be dirty but I couldn't have anticipated the amount of sand tracked into my home, the water makes it impossible to brush off. I think a regular dry sandbox would be better. With that said, I would get this for him again because he loves it so much.
03 September 2010
Rated

4

out of

5
 by
Lake Momma
Great table.
We purchased this table for our one year old who LOVES water play. I can't keep her out of the water and thought a water table would be our best route. After researching different models/ brands I settled on this one because it had the umbrella with it, not as a separate purchase. I love that it has drains in both sides since we use them both for water. Other similar products had negative reviews because the table only had a drain on one side. Seems logical to put them on both. It was super easy to put together. I literally had it open and filled with water in about 20 minutes. The only problem I'm experiencing is the umbrella. It provides adequate shade for our super sunny Oklahoma summers but when the wind blows the umbrella flies away. I've tightened the little brace that came with it but it still isn't tight enough to hold it in place. Both girls love this table.
28 May 2012
Rated

4

out of

5
 by
Grams
Everything that I had hoped for
We needed to find a sand box or water table that had a cover. My granddaughter's yard is frequented by feral animals. We especially liked the adjustable legs. It will be used in about a year by a younger sibling. This will make it very practical. I do wish that the "bridges" snapped in somehow. They are just resting on the other edges and fall off during play. That's about the only complaint I had.
17 February 2013
---