Product Image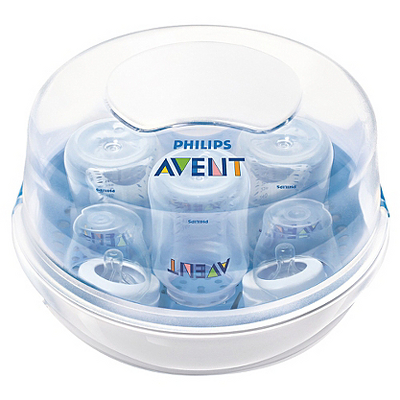 Product Details
Description
Microwave steam sterilizer
Convenient for travel
Ready in 2 minutes
Clips close the lid securely
Kills 99.9% of harmful germs
BPA free
What is included
Microwave steam sterilizer: 1 pcs
Tongs: 1 pcs
Technical specifications
Sterilization Time: 2 min at 1100-1850W, 4 min at 850-1000W, 6 min at 500-800W
Water capacity: 200ml
Weight: 740 g
Dimensions: 166 (H), 280 (W), 280 (L) mm
Easy sterilizing at home and way
The Philips Avent Microwave Steam Sterilizer has a lightweight and compact design, which makes it ideal for use in and out of the home. Contents remain sterile for up to 24 hours if the lid is unopened.
The Philips Avent Microwave Sterilizer has been designed to fit microwaves in the market. Its small size makes it convenient for travel, ensuring that you always have a sterile bottle when you are going on a short overnight trip or on a longer holiday abroad. Also ideal as an extra sterilizer for the grandparent's house.
Just add water, load and place in the microwave for as little 2 minutes. The exact length of the cycle will depend on the wattage of your microwave: 2 min at 1100-1850 Watt, 4 min at 850-1000 Watt, 6 min at 500-850 Watt.
Clips close the lid securely
The microwave sterilizer has clips on the side for extra safety. The clips close the lid securely so hot water cannot easily escape when you take the sterilizer out of the microwave. The side grips have also been designed to stay cooler to help you handle the sterilizer safely.
Kills 99.9% of harmful germs
Sterilizing protects your baby from particularly harmful bacteria until his immune system is strong enough. Philips Avent Sterilizers use the hospital method of steam sterilization, which is quick, easy, and effective, with no chemicals involved. Contents stay sterile for 24 hours if the lid is unopened.
This sterilizer is made from BPA Free materials
Manufacturer's Description
Rated

4.3

out of

5

 by

8

reviewers.
Rated

4

out of

5
 by
Maelena1990
Great sterilizer
I've used this sterilizer with both of my kids. I'm currently using it for my daughters Avent bottles. I like that it's simple and easy to use. It only has 3 parts to it so it's easy to wash. The only thing that I don't like is that it doesn't fit the 11 oz. bottles...I have to stand them where the nipples should be. Wish they made it a little taller so they would fit properly. It's the only reason why I gave it 4 stars instead of 5.
07 August 2013
Rated

2

out of

5
 by
KristinC21
bottles don't fit as designed
I purchased this with the expectation of sterilizing my bottles all at once, leaving me only having to wash and sterilize twice a day. The natural avent bottles do not all fit as indicated in the manual, so I am left washing and sterilizing just as much as I was with the generic brand sterilizer I previously used.
03 March 2013
Rated

5

out of

5
 by
Munchie
Excellent and easy to use
Lovely product, use it lots of times in the day just wish I could fit more in in a go, only get 2 bottles maybe 3 at a push in at a time, but could not live without it, been using mine for 3 months now xx
10 April 2013
Rated

5

out of

5
 by
RozaR
Fantastic!!!
Great,soooo easy to use!!! Recommend to everyone!!!
03 April 2013
Rated

5

out of

5
 by
Riggie53
Fantastic
We used an earlier version of this product and were delighted with the design and performance. We highly recommend this as a reasonable sterilizing solution.
23 September 2012
Rated

3

out of

5
 by
inpdx
Great sterilizer - doesn't work with all bottles
The sterilizer works great and is super convenient/fast. The only issue I've run into so far is it doesn't fit taller bottles from another brand.
17 April 2013
Rated

5

out of

5
 by
desi29
love it
i love this sterilizer i use it 3 times a day now for 3 mounts and still looks like new i love avent products
12 July 2012
Rated

5

out of

5
 by
Sarah2716
Best purchase
02 June 2013
---