Product Image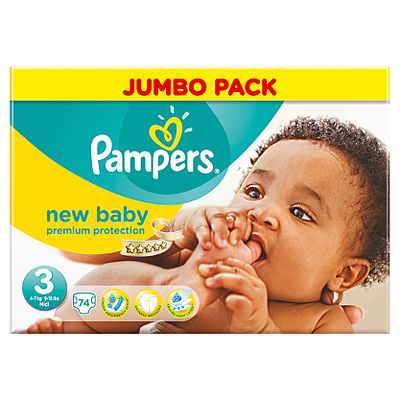 Product Details
Description
New Pampers New Baby offers unbeatable protection for newborn skin - no wonder it is UK Mums' most trusted newborn nappy* and accredited by the Skin Health Alliance. New Baby nappies now have a longer absorption patch that gives your baby added protection at the back, to quickly draw wetness and runny poo away from your baby's precious skin, as well as the unique Absorb-Away Layer™. With the Pampers Premium Protection™ range your newborn will feel nothing but love, as the cotton-like-softness gives babies all the comfort they need and the new Navel Friendly Shape keeps your baby protected with a curved fit around the belly. Outgrowing New Baby nappies soon? Keep them in Pampers best protection with Active Fit for our best dryness and fit.
Use together with New Pampers New Baby Sensitive wipes for extra loving moments at change time, which are specially designed to gently clean your new baby's skin.
Pampers New Baby nappies are offered in sizes 1, 2 and 3
Unbeatable protection for newborn skin
Accredited by Skin Health Alliance
UK Mums' most trusted newborn nappy*
Now with a longer patch for added protection at the back
Unique Absorb-Away Layer™ to absorb quickly wetness and runny poo
Cotton-like-softness
Wetness Indicator: Turns blue when your baby pees, indicating a possible nappy change
New Navel Friendly Shape: Curved fit around the belly for comfort (available in sizes 0, 1 and 2)
*Nielsen P12M data to June 2012
From the Manufacturer

|
Full Specification
| | |
| --- | --- |
| Size | 3 |
| Pack Quantity | 74 Nappies |
| Sub Brand | Newbaby |
| Maximum Child Weight | 7kg |
| Minimum Child Weight | 4kg |
| Pack Size | 74 |
| Product Type | Nappies |
| Type | Nappies, Wipes & Changing |
| Weight Range | 4kg-9kg |
| Brand | Pampers |
Rated

4.6

out of

5

 by

36

reviewers.
Rated

5

out of

5
 by
Cridds
Loving pampers
These nappies were a life safer. My little girl stayed dry and the fitted perfect. They were soft on her skin and she never suffered with nappy rash and never had a leaky nappy! There is a slight chemical smell but we didn't find it too bad. A* for us!
27 January 2013
Rated

5

out of

5
 by
HollyElizabeth
Great Nappy
This was the product i used when my daughter was born and i would defo use this product again. People always told me about nappy leakages and i didnt have any with these. My daughter never had any nappy rash either so they where brilliant.
23 July 2013
Rated

5

out of

5
 by
tweeky88
liked them
I have tired various makes of nappies for my 11 week old boy and I keep going back to these as they seem to absorb more without him noticing, where as other brands don't seem to do this and he cries more often as he doesnt like being wet.
25 January 2013
Rated

3

out of

5
 by
carolyno
Not as good as expected
Having tried these, they had a chemical smell which i really do not like on my new baby. I have changed to huggies which do not smell nor go jelly like when wet. I agree they are very soft & do not leak but the smell was overwhelming.
12 October 2012
Rated

5

out of

5
 by
karen4
Excellent protection
I would strongly recommend these nappies to anyone with a new born baby. I used these nappies for all 4 of my newborns, and I never had 1 leaking nappy. The neonatal units use these nappies too, so that must tell you something.
12 July 2013
Rated

5

out of

5
 by
EmElls
Mrs
These are the only nappies I would recommend for a newborn! Used these with all three of my babies. Worth any extra costs as they don't leak- so less washing (reducing costs & workload) and staining of clothes- Fab!
25 June 2012
Rated

4

out of

5
 by
Flutterby786
Mummy to 8 week old
I absolutely love these nappies! Unlike other leading brands they don't like and are kind to my lo's skin. I found the wetness indicator useful too it saves stripping baby to check whether she needs changing.
19 October 2012
Rated

5

out of

5
 by
Joanna0013
You baby will thank you for that buy.
I would recommendet them for children they are nice in touch , great for young sensitive skin. They are absolutly better then pampers sensitive new baby which did not work for my daughter.
21 February 2014
Rated

5

out of

5
 by
bella777
Amaizing
hey were great for my babies soft poo. I been dissapointed they are not available in bigger sizes:( Highly recommendated. Everything staying in nappy nothing on the bottom. I love them!!!
26 September 2012
Rated

5

out of

5
 by
GWJ1956
Better than others
I keep trying other brands when they are reduced in price as nappies are so expensive but come back to Pampers every time. They are definitely the best nappy there is.
12 July 2013
Rated

4

out of

5
 by
Ravmum
Nappies
Pampers are the only nappies I would use for my baby, need to change less frequently as they are more absorbent so don't work out expensive compared to cheaper brands
12 July 2013
Rated

2

out of

5
 by
Lostkelly
Wouldn't use again
I used this for my newborn baby and found he would leak from them. I had also bought huggies and found they wouldn't leak so have since been using them.
07 June 2012
Rated

5

out of

5
 by
mumoff5
great nappy
this nappy is brilliant,compared to other leading brands.it actually does what it suppose to keep my baby dry, no leaks fits perfectly,
25 January 2013
Rated

2

out of

5
 by
ches
ok, not as good as the active fit
ok nappy, but not as good as the active fit. Leaked on a number of occasions, good fit but wouldnt recommend the new baby range
03 May 2013
Rated

5

out of

5
 by
manormom
best newborn nappies
These are my favourite newborn nappies by far. No leaks, soft, excellent protection. I wish these were made in larger sizes!
15 June 2012
Rated

5

out of

5
 by
Mummy2jack
Nappies
When my little boy was born I used this brand of nappies and never had one problem with them good quality and no leaks
16 December 2013
Rated

5

out of

5
 by
Emz3006
Miss
Great nappies, they dont rub on skin like other types and hold in mess. deffinately one of my top two for nappy brands
07 June 2012
Rated

5

out of

5
 by
bonniedee
best money can buy!
These are great for newborns as comfy for them and very absorbent which is essential for newborns skin!
01 June 2014
Rated

5

out of

5
 by
loulou87
Best Newborn Nappies
Excellent nappies for newborns. Soft on skin. Never leaked and great value for money!
25 January 2013
Rated

5

out of

5
 by
emmandtamzen
brilliant
brilliant size as my little girl was born early , was very happy with item
25 January 2013
Rated

5

out of

5
 by
mrszmissj
4 months old little girl's mum
we love it, my baby has no nappy rash. her skin is soft and dry.
25 January 2013
Rated

4

out of

5
 by
shelster
pampers new baby
great nappy for new borns, keeps them nice and dry and no leaks
20 May 2014
Rated

5

out of

5
 by
Serelina
Love Pampers
I love pampers I'm using them on my little boy who's 11weeks
01 February 2013
Rated

4

out of

5
 by
kvbk
Good Value for money
good value for money.i always prefer this and asda offers it at cheaper price than all other supermarketrs.
06 June 2012
Rated

5

out of

5
 by
jusme
best nappies
I would def recommend pampers to anyone, have bought huggies for my baby but after an hour he's soaked!
17 May 2012
Rated

5

out of

5
 by
Goldie88
Pamper new baby size 3
This product is amazing because these nappies indicate when your babies nappie is full
15 October 2012
Rated

5

out of

5
 by
paddyinkent1
such a good deal
have bought four of these to last all month,saving me at least three quid on each pack.
28 April 2014
Rated

5

out of

5
 by
joseyposey
great product great value
works out alot cheaper, good quality nappys,very happy with purchase.
09 June 2012
Asda Q&A is a customer to customer community forum, and as such Asda does not endorse any customers ideas or advice. If you are a Wine Shop customer Asda may respond to questions posted when appropriate to do so regarding product details. If you have a customer service query you can contact us here. Thank you.
Ask your questions. Share your answers.
by
Milton Keynes, UK
Additional information about nalin could not be loaded.
---