Product Image
Product Details
Description
*WINNER - MOTHER AND BABY AWARDS - GOLD 2012/2013 - BABY MONITOR*
Motorola introduces the MBP36. Achieve peace of mind with this large 3.5" Colour LCD screen digital video monitor complete with Pan, Tilt and Zoom function, infrared night vision and high sensitivity microphone.
Soothe your baby with polyphonic lullabies and communicate remotely with two-way communication. Complete with room temperature monitor for extra safety.
The MBP36 also features a power saving mode, low battery indicator and rechargeable batteries are included in the box.
What's in the box?
1 x Parent Unit with 3.5 inch diagonal colour screen
1 x Baby unit (Audio/Video)
1 x User guide
1 x Quick start guide
1 x Rechargeable battery pack (For parent unit)
1 x Power adapter (For parent unit)
1 x Power adapter (For baby unit)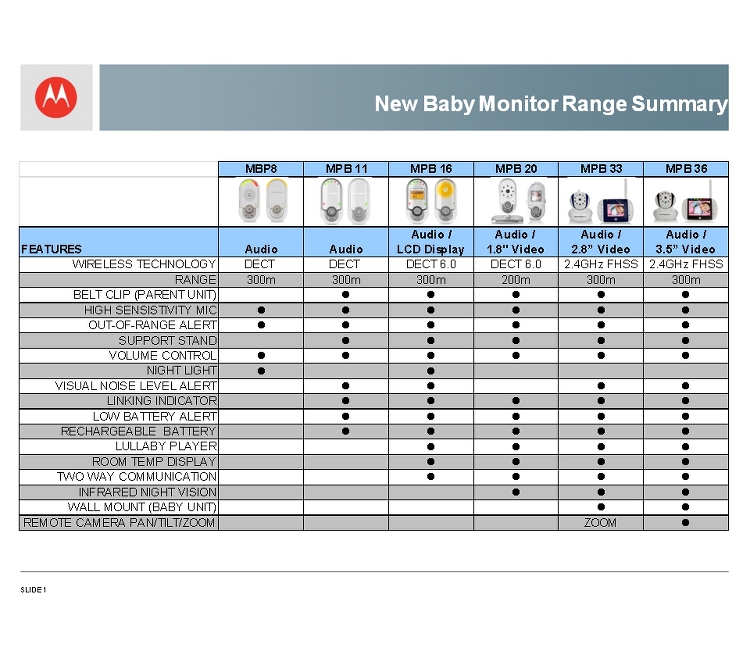 Full Specification
| | |
| --- | --- |
| Colour | White |
| Out of Range Indication | 300 metres |
| Transmission Method | DECT Digital |
| Two Way Talk Back | true |
| Accessories Included | 1x Parent Unit with 3.5 inch diagonal colour screen - 1x Baby unit (Audio/Video) - 1x User guide - 1x Quick start guide - 1x Rechargeable battery pack (For parent unit) - 1x Power adapter (For parent unit) - 1x Power adapter (For baby unit) |
| Additional Features | Pan, Tilt and Zoom |
| Batteries Included | false |
| Battery Type | |
| Sub Brand | Motorola MBP |
| Length of Labour Guarantee (Years) | 1 Year |
| Material | Mixed |
| Model Number | 1007617 |
| Length of Parts Guarantee (Years) | 1 Year |
| Product Type | Baby Monitors |
| Type | Monitoring & Healthcare |
| Weight | 0.32kg |
| Brand | Motorola |
Rated

4.6

out of

5

 by

7

reviewers.
Rated

5

out of

5
 by
Anniebella
Great product at a great price
There are so many good and bad reviews for so many monitors out there, the decision was a nightmare but this one is brilliant! We wanted a video monitor to look at our baby without always having to go in and check him and risk disturbing him if he's settled. It has been essential for teaching him and us to relax and settle in his own room. Picture clarity in the day and night is excellent. Sound quality is great, plus you can turn the volume down and use the lights to determine crying volume. Signal strength is great anywhere in our "average sized" 4 bed house-and in the garden. It's not affected by wifi or any other gadgets. This has a zoom and pan function. Room temperature is helpful. Rubbish "doorbell" lullabys make for a good laugh! Microphone means my husband speak to me or the baby while I'm in the room. Can be used connected to the mains or battery lasts about 6-7 hours. This is sometimes a little short but baby's never sleep for that long anyway! Cheaper than the more well known brands with all the functions we needed. Stop confusing yourself with all those reviews out there and get this!
01 August 2013
Rated

5

out of

5
 by
Chatteris
Very Good Quality Product!
Power Supplies for both Parent and Baby units will save on batteries! The Parent unit does also have rechargeable batteries so that you may carry it around with you provided that you remain within range. WARNING: The power supply for thr Parent unit is 6V DC/500mA and the power supply for the Baby unit is 5.9V/1000mA, so please ensure that you use the correct one in each case. There are symbols on the adapters that will assist plus the electrical information is shown on the adapters themselves. Almost 360 degree remote Parent unit camera pan left and right, plus tilt up and down make it very easy to align so that you have the best view of your baby. You may additional zoom in x2. There are eight volume levels that allows you to set the volume level appropriate to daytime and/or nighttime background noises. There is also a visual LED Baby noise level, that are green, orange, and two red levels to assist parent monitoring of their baby. Also included is a speaker button, allowing you to talk to your baby remotely. The room temperature where the Baby unit is sited is displayed on the Parent unit. There is an alarm feature that may be set at 0, 2, 4, or 6 hour intervals - a beep will sound for approximately 45 seconds. The five lullaby tunes if I am honest is a little gimmicky - but then again, you do not have to use it. The Baby unit has a photo sensor that automatically switches to infared for night vision - this an exceptionally good feature! You can separately purchase an AV Cable that has a small USB connector to AV output that allows you to connect the Baby unit to your TV so that you can use your TV as the display. This maybe difficult to find and/or obtain - but it must be available. I am trying to obtain one at the moment. This baby monitor is towards the top of the range and therefore one of the more expensive ones, however, I believe that it is very good value for money with a lot of features that will allow you to monitor your baby both day and night. I would most definitely recommend it.
17 April 2012
Rated

4

out of

5
 by
mholwek
Good monitor for reasonable money.
This is our second baby monitor. First one was Miniland 3,5" Baby Monitor. Motorola is much cheaper and is not as good quality as the spanish product. Miniland was more sturdy, better quality plastics, better design. Also the sound would only cut in when the baby would start crying, which is a very nice feature (especially when you want to keep the volume at high level at all times). Motorola's night vision is also not as good. One of the biggest advantages of Motorola are: very good quality picture, zoom feature, pan tilt and zoom controlled from the monitor unit (great!) and good sound quality. One thing I find annoying is that you have to go to menu settings to change volume. Also, when the monitor is running on battery, vision goes off after 5 minutes or so (to save battery). It would be good if the vision would come back on again, when the baby starts crying (which is not the case). You can only hear the sound and see the indicators on top of the monitor. We live in a two bed flat. Monitor looses signale very rarely, not a major problem. If it does, alarm goes off. Monitor is good, size, 3,5" (more than enough). Never mind the melodies, and talk back function - useless. In general, Motorola MBP36 is a very good product at this price.
28 November 2013
Rated

4

out of

5
 by
Amandine
Excellent product
Husband had great fun setting the monitor up to spy on me in the kitchen. He was able to adjust the camera from the other room to follow my movements! Only criticism is that the two power cables were not interchangeable.
03 July 2012
Rated

4

out of

5
 by
Didi007
Enjoying Monitor
We're 1week in to using this monitor and so far really enjoying it. The screen quality is great at night - not used it during the day yet - and a good size. The sound is clear. Need to work out how to stop the screen turning off automatically when it's unplugged & mobile, but I think that's do-able, and you can still hear the wee one when in sleep mode. Enjoying using it.
16 May 2013
Rated

5

out of

5
 by
tracy1982
good
baby is due in 5 weeks so so we been looking for a monitor for a while but i knew i wanted one with a camera, we have tested it out and this camera is brillant even at night. glad we got it.
15 July 2013
Rated

5

out of

5
 by
BekiB
I love it!!!
So easy to use and set up! Would definitely recommend!! I love watching my son sleeping and knowing that he is completely safe. Excellent price as well with Asda.
05 June 2014
---