Product Image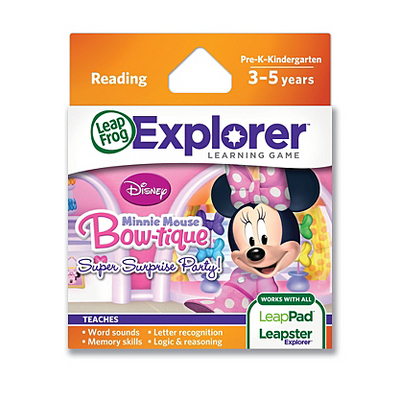 Product Details
Description
It's a busy day at Minnie's Bow-tique'everyones getting ready for a super secret surprise party! Join in the fun and help Minnie and Daisy turn ribbon and dazzles into beautiful bows for all of their friends. Builds phonemic awareness and memory skills while encouraging creative play.
Play three curricular games to prepare for the party, including Ribbon Roundup, Butterfly Bows and Daisy's Dressing Room. Plus, enjoy the Bow Design Studio and Hide & Seek with Cuckoo Loca.
Match colours and letters in Ribbon Roundup to help create new bows! Difficulty level adjusts to the player's skill level for just the right learning challenge.
Help Daisy pack up her special Butterfly Bows. Identify a word by blending sounds. Grab the bow with a picture of that word. Correct answers sparkle and are packed up for delivery to happy customers.
Play fashionista and help Daisy design a festive look for the party! Use logic and memory skills to help Daisy find the perfect bow, blouse and heels for the big party!
Craft Minnie's fa-mouse bows in the Bow Design Studio with ribbon, dazzles and glitter.


LeapFrog Explorer learning games & apps work with LeapPad2 Explorer, LeapPad1 Explorer, LeapsterGS Explorer and Leapster Explorer (sold separately). From the Manufacturer

Full Specification
| | |
| --- | --- |
| New In | false |
| Character | Minnie Mouse |
| Type | |
| Dimensions | 1.6 x 13.7 x 16.2 cm |
| Gender | Girls |
| Sub Brand | Minnie Mouse |
| Material | Plastic |
| Minimum Age | 36 + Months |
| Product Type | Electronic Games |
| Type | Tablet Software |
| Brand | LeapFrog |
Rated

4.3

out of

5

 by

41

reviewers.
Rated

4

out of

5
 by
WildRoseMommy
Great for creative young ones
My almost 3 year old got this game for Christmas and she loves it. I made and sell bows and she is ALWAYS trying to "help" mommy make bows, so for her to be able to play a game and make bows is awesome. She only had to be shown a few times how to do the motions and now she is able to play indepently. She has only mainly played with the bow making game but the other games are simple enough for her to play too. As far as educational features go, I would not consider it a reading game by any stretch of the imagination. She is young and I am not worried too much about the educational aspect of it.
25 December 2013
Rated

3

out of

5
 by
firediva
not what I was hoping
the game is cute but the reading/phonics part of it is difficult to understand. it only has one game thats phonics related and it sounds like an automated computer voice trying to sound things out. even I had a hard time understanding what item they wanted me to choose. the game does do a lot with colors and matching and such, but my 4 year old has mastered those some time ago. she loves the game though, probably because its easy for her. I was quite dissappointed with it and was hoping for something that supported reading and phonics a lot more.
28 January 2013
Rated

5

out of

5
 by
SweetT
This product really delivered all our expectiatons
My 5 year old daughter picked the Minnie Mouse Bow-tique game off of your website and I purchased it for her. She could hardly wait to play it. I am so happy that when it arrived, all our expectations were fulfilled. She was thrilled with the game and even my 11 year old likes to borrow it sometimes to play. It has provided hours of entertainment, and the best part is that while my daughter thinks she is just playing, I know she is learning at the same time.
27 February 2013
Rated

3

out of

5
 by
byahn13k
Just for Fun
This game gets a lot of play from my 6-year-old despite the fact that it was designed for younger players. As far as I've seen, it only teaches her how to color-coordinate when choosing outfits and to design bows. Also, it's really annoying downloading glitter every day or two for her bows. I feel like the game is way over-priced for it's true value. This game should be moved to either "social games" or the "just for fun" category.
09 July 2013
Rated

4

out of

5
 by
PaytonsMommy
Highly recommend for 2-5 year olds
This is one of my daughter's (3 1/2) favorite game (along with Doc McStuffins). She can play for 30 minutes or more at a time. What I like about this game is that you can earn points as you go along, which is encouraging to young players. When she creates a bow correctly, she gets a new color ribbon next time. This is a great concept. I hope it continues to bring new challenges to continue keeping her interest.
25 January 2014
Rated

5

out of

5
 by
Lilith
This is a must have!
I bought my daughter a LeapPad for Christmas. I had to hunt this game down bc my daughter love's anything w/ Mickey & Minnie Mouse in it. She has such a blast playing on it. You even earn points to unlock certain items. I love the fact that she is learning & she doesn't even notice it. My daughter is 3 years old & she picks up on things super fast. I even enjoy playing it w/ her!
27 December 2012
Rated

4

out of

5
 by
schup
Pretty good app, but where are the micro mods??
She LOVES Minnie and loves this app. I am not sure about the micro mods that the game is talking about. I have been online to search for them and understand how to obtain but the website has no information. It seems there are additional features that can be added on but no way to access it. That would be my only negative comment. If anyone has a clue, please let me know!
28 January 2013
Rated

5

out of

5
 by
justanothermom
For the creative toddler
Are little girl will be three next month and so far there is just a few things she has not been able to do in the app. She loves it out of the cartridges we got her for Christmas it is by far her favorite. She is learning how to follow direction and draw as she tries to build and decorate bows. I would suggest this to any parent of a younger girl with a creative side.
28 December 2013
---