LG
Category Hero
Magic Remote
LG's Magic Remote is the easiest most intuitive way to control your Smart TV using voice, pointing, gesture and scrolling.
Universal Control: Banish the need for multiple remote controls by using the LG Magic Remote to control other devices in your living room such as your Blu-ray player or Home Cinema System.
Pointing: Simply point the LG Magic Remote towards your Smart TV to choose and select what you want to watch.
Gesture: LG's Magic Remote recognises pattern of gesture. Make a simple gesture to perform complex commands, saving you time.
Wheel: Use the intuitive scroll to simply navigate through Smart Home, entertainment guides and web pages.
Voice: Control your LG Smart TV using voice recognition. LG's Magic remote allows users to interact with their Smart TV via voice, search for the movies or TV shows, catch channels and even browse the web by simply speaking into the Magic Remote.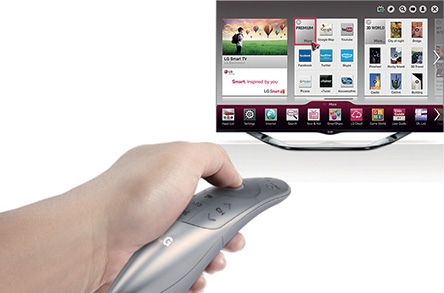 LG TV Remote
Easily control and navigate your LG Smart TV using your smartphone/tablet with the free Android or IOS App. The App also allows you to share your TV screen on your smartphone or tablet via WiFi.
Smart Home
An overview of all your available entertainment services organised into various cards, displaying Apps such as catch-up TV, movies, TV series, sports and music. The LG Smart TV App Store offers the latest and most popular applications including lifestyle, kids and games. There is something for everyone to download and enjoy.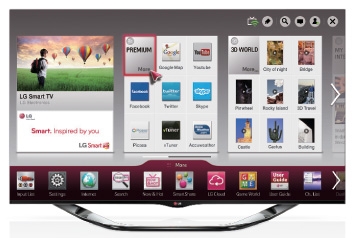 Voice Mate
Communicate to your TV and enjoy interactive entertainment with Voice Mate. The TV can understand your words and respond as you wish, enabling you to conveniently control and enjoy your TV.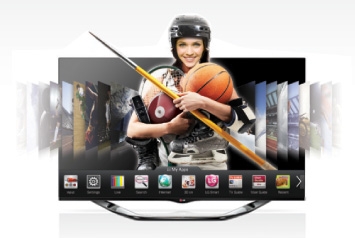 Premium Content
Enjoy catch-up TV, movies, TV series and music instantly on your LG Smart TV.

Universal Search
Universal Search helps you find exactly what you want, and even things you didn't know you wanted! Click the Search button on the launcher bar and you'll be invited to type or speak a search term, hunting for movies, TV shows, LG Apps and user-generated content, across LG Smart TV and the internet.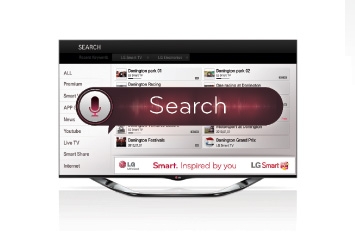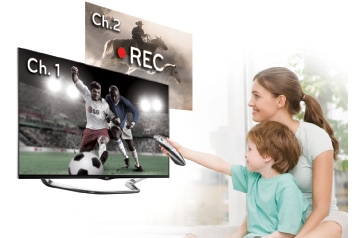 Time Machine
With LG's Time Machine feature, TV programs can be recorded so that you can rewind, pause or even re-watch your favorite shows. A 40Gb USB Storage device is required for some Time Machine II features.

COMFORTABLE 3D GLASSES
Enjoy 3D in greater comfort with light, battery-free, and affordable 3D glasses.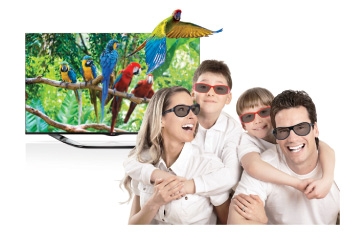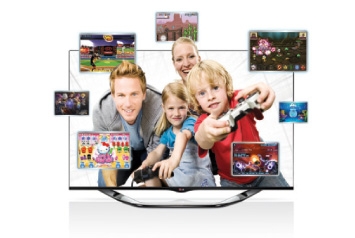 game world
LG Smart TV's Game World provides family entertainment. Download and enjoy playing game sdirectly on your TV using LG's Magic Remote, which acts as the controller.
Cinema 3D
LG CINEMA 3D TV provides the finest and most cinematic 3D entertainment. You can indulge in just how 3D was meant to be... just like at the movies. Enjoy 3D in greater comfort with light, battery-free, and flicker-free 3D glasses.

Flicker-Free 3D
Unlike conventional 3D TV, LG CINEMA 3D Smart TV is flicker-free and also provides brighter 3D images. It's easier on the eyes, delivering clear and crisp 3D that jumps out of the screen.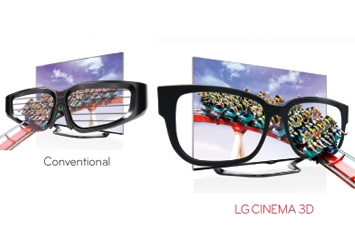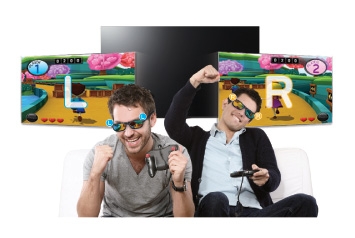 Dual Play
Whereas conventional TVs relied on a split screen or separate sets for multi-player games, LG TVs with Dual Play function transmit two separate 2D images that can be seen through two different sets of polarised glasses. So when two players wear the glasses while playing games, they will each see a different image covering the entire screen.

3D World
LG's 3D WORLD Card provides you with endlessly expanding 3D content, including movies, sports, music videos, educational clips, and more!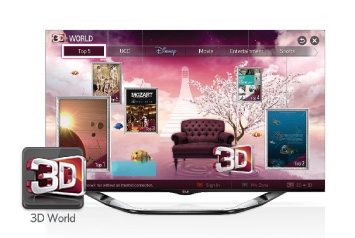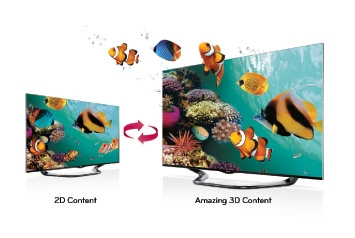 2D to 3D
LG provides a remarkably advanced and convenient 3D conversion technology with greater 3D effects and depth control, so you can instantly convert any 2D content into surprisingly deep and realistic 3D.
3D DEPTH CONTROL
Control the 3D that you are watching to suit you best. With 3D Depth Control, the apparent depth of on-screen images can be adjusted to suit the viewer.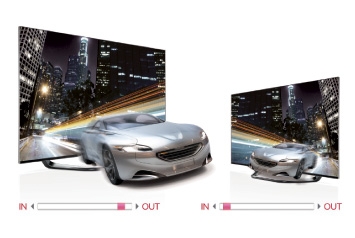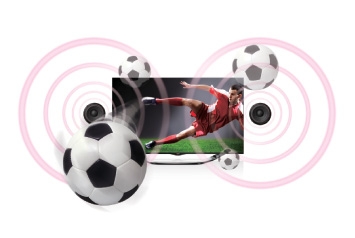 3D SOUND ZOOMING
The complete 3D TV is here with 3D sound that is fully synced with the 3D images on-screen. 3D Sound Zooming makes your 3D experience even more immersive than ever.
THE LG LED TV IS MORE THAN JUST A TV.
It represents a new lifestyle that lets you communicate with the world, experience joy, and share your emotions with LG Smart TV. Enjoy a more deeply immersed, zoomed-in 3D life with CINEMA SCREEN design. Be ready to enjoy more variety of entertainment.
Intuitive and easy TV navigation

Catch-up TV and movies on demand

Simple sharing between devices
For more information on LG Smart TV, please refer to the dedicated Smart TV section.

Flicker-Free 3D
Unlike conventional 3D TV, LG CINEMA 3D Smart TV is flicker-free and also provides brighter 3D images. It's easier on the eyes, delivering clear and crisp 3D that jumps out of the screen.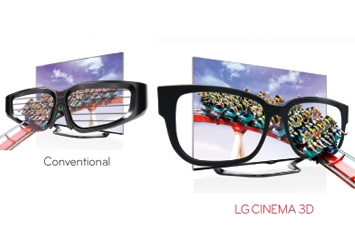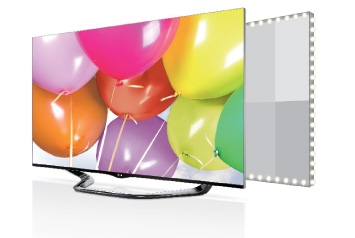 LED PLUS
LED Plus delivers crystal clear images and truly realistic colours and contrast with Spot Control technology

MCI
Reduces picture blur so you can enjoy action-packed movies and sporting events.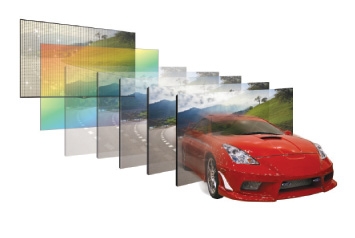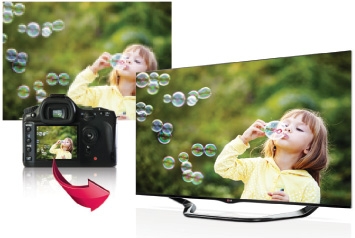 FULL HD
Discover sparkling High Definition with four times as much picture detail. Brings you the best of BBC, ITV and C4 in High Definition, with no monthly fee or contract.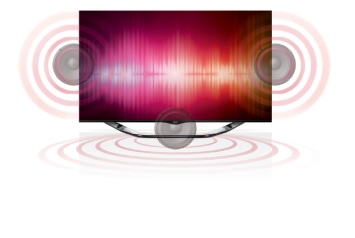 2.1 SPEAKER SYSTEM
With the 2.1 Speaker System, dual speakers with an added woofer produce explosively real sound for an incredibly realistic cinema-like sound experience.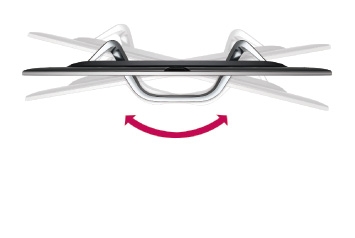 MAGIC SWIVEL STAND
With its superbly crafted design and smooth, rolling turns, the Magic Swivel will add a beautifying touch to your TV whenever you wish to turn it.
LG - Plasma TV
Empty carousel products.
ACTIVE 3D
Acive 3D means that the glasses create the image for the viewer by alternately opening and shutting each lens to show each eye a different image. LG shutter glasses are powered by small batteries and receive sync signals from the TV via an infrared beam similar to a TV remote.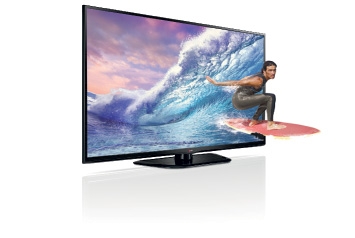 600HZ MAX
With 600 images per second, LG Plasma TV offers the clearest and smoothest images, even during fast motion.

TRIPLE XD ENGINE
LG's latest and most advanced Triple XD Engine brings the highest level of excellence in Colour, Contrast, and Clarity for the best picture quality and performance.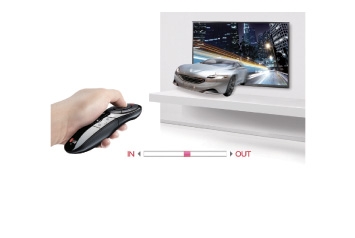 3D WIZARDS
With 3D Wizards, users can easily customise their 3D viewing experience and correct images for all 3D content including 2D to 3D conversions.
Razor frame and protective glasss design

Enjoy immersive viewing and optimal design with razor-thin plasma TV.
Worried about scratches and damages on your TV screen? LG Plasma TVs are protected by a protective glass, making them the strongest and most durable flat-screen TVs. Reliability tests have been conducted that show just how scratch resistant and sturdy they are. Keep your television in mint condition for as long as you use it.
LG - Home Entertainment
Empty carousel products.