Product Image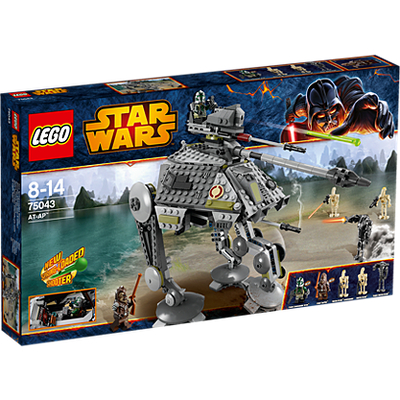 Product Details
Description
At the Battle of Kashyyyk, Clone Commander Gree and Chief Tarfful open the top hatch of the heavily armored AT-AP and jump in. With an elevating blaster cannon, new rotating top-mounted, spring-loaded shooter and extending third leg to help it stomp over the roughest surfaces, those Droids had better start running! Includes Clone Commander Gree and Chief Tarfful minifigures plus Battle Droid, Battle Droid Commander and Super Battle Droid figures with assorted weapons and an accessory.
Full Specification
| | |
| --- | --- |
| New In | false |
| Character | Star Wars |
| Formats | Toys |
| Age Range | 7 - 9 Years |
| Dimensions | 48 x 6.1 x 28.2 cm |
| Sub Brand | LEGO Star Wars |
| Material | Plastic |
| Minimum Age | 8 + Years |
| Model Number | 75043 |
| Product Type | Building Blocks |
| Type | Building Blocks |
| Brand | LEGO |
Rated

4.9

out of

5

 by

28

reviewers.
Rated

5

out of

5
 by
JeremyF
All Terrain Attack Pod (AT-AP)
At first I was a little sceptical about buying this set. I wasn't sure if I would like it or not. I like challenging sets. When I was building it, it was not very easy! It has A LOT of technic pieces! And those get challenging. But don't hold back from buying it. It is a wicked awesome set! It is also a pretty good size. Larger then you think. My favorite part is Commander Gree. He is one of my favorite Clone Troopers ever. Another outstanding Minifigure is Chief Tarfful. There are a lot of detail put into these minifigures. The one thing I don't like is the ledge on the back. I don't understaand why it is there. But If I had to rate the set I would give it a 10/10.
16 June 2014
Rated

5

out of

5
 by
Richieuber999
Great set and great Gree and Tarfful
This set was awesome. It was pretty close to perfect. The new phase 2 commander Gree is just amazing. The new general Tarfful is awesome too. If they just added another 41st elite clone trooper would have been better but i understand them for not because they want you to buy the kashyyyk trooper battle pack. But other than that, this set is just amazing. And also this price was amazing so thank you and nice job Lego company. Pros: Great Commander Gree and General Tarfful and the AT-AP itself and the price that was supposed to be $70 but was $60 Cons: NONE!!!! If you have the money to buy this, then definitely buy it because you are definitely getting your money's worth.
26 February 2014
Rated

5

out of

5
 by
captinmac
Great set
This is a really good set. It wasn't too hard to build, and I took my time with it. The good things are that it has Commander Gree, Chief Tarrful, it is sturdy, has a lot of space inside, the price is amazing, and some other things I won't spoil for you. I have one single complaint: the two main legs don't move (or I built it wrong). Well, they have a joint in the back that allows the legs to move...backwards. I don't know if LEGO did this to make it more sturdy, or something else, but it annoys me. other than that fact, this is an AWESOME set and I definitely recommend it to any fan of Star Wars and/or LEGO.
13 March 2014
Rated

5

out of

5
 by
starbuilder14
A NEW AT-AP FINALLY
We finally got a new at-ap we haven't had one since 2008 and i missed out on that one. but when i saw this set was out i immediately ordered it. It is a great set, i love the new Tarfful and Commander Gree, they both look awsome. the set overall is a 10/10 i love how the leg can come up and down for when its moving or shooting and the gun on top can be locked so it won't move is great. the inside of the walker is awsome you can put more then 2 guys in there but it might be tight. and if you get the Kashyyyk Troopers battle pack (75035) and the Driod Gunship (75042) you can make a cool battle with these three sets. I totally recommend this to anyone and i will definitely be buying 1-2 more. I hope this review was Helpful.
25 May 2014
Rated

5

out of

5
 by
DavidHellyer11
Awesome just Awesome :-)
This set is awesome because of the inside and all the features it has (specially all the Kashyyyk details on it) such as the color green. I also like commander Gree (details and such) i'm glad there are battle droids and the defenders of kashyyyk and the AT-AP its self but it would have been complete with a spider droid or crab droid. Pros: Good looking minifigures Good looking set in general nice details to AT-AP The inside is very cool (AWESOME) Cons: Needs more clones & wookies it falls sometimes even on three feet In Other aspects: VERY VERY COOL.
23 March 2014
Rated

5

out of

5
 by
tboy
The Battle of Kashhhyk! :-)
this is an awesome set. it has these three legs. And it has these three guns, one is just huge, its awesome. and one of those awesome new spring shooters. And there is like a hatch thing to reveal a cool interior. 2 battle droids,1 super battle droid, commander Gree, and Mr. Tarfull Put in the minifigure! start shooting! Its big and cheap! perfect for saving money! perfect playability! perfect minis!perfect everything!!!!!!!! pros: cool missile spring shooter big guns cool interior good minis cons: want more clones recommendation for people who buy: if you buy this set, buy the droid gunship with it put clones with it if you have it BUY IT, ITS SO GOOD AND CHEAP buy it when its on sale for even better do your own battle of kashyyyk!
16 February 2014
Rated

5

out of

5
 by
Sunv
The AT - AP!
The AT - AP is in my opinion the best LEGO Star Wars set for the Winter 2014 line! Why, do you ask? Cons: - Legs are hard to position to make it look like the AT AP is walking. - Would have been nice to see just 1 more Kashyyyk trooper to fill up the inside. Pros :D - Commander Gree ( Impressive printing ) - Captain Tarfful - A couple of Battle Droids, can't get enough of them. - Spring loaded missiles. - No flick fires! :D - Redesigned AT AP with tons of detail! - Quite a large size - Finally, the piece count! It's quite rare to see LEGO sets with a price per piece below 10 cents ( Excluding sets with tire tracks ), so this was quite a pleasant surprise! Props to LEGO for that! Overall, this is a solid set for it's price and I'm very pleased with the result. Great play value as well.
23 March 2014
Rated

5

out of

5
 by
DarthShaymin
Best 2014 winter Star Wars set
This set is just plain awesome. The minifig selection is awesome. Unlike the 2008 version, this one will stand upright completely, and is not top-heavy. The spring-loaded shooters are great but a little too sensitive. Pros: Gree, Tarfful Stable design New missiles A few droids Nice roomy cockpit Locking mechanism for leg and cannon Cons: Missiles may be fired when the minifigs are put on the turret Too few clones Great set, but you have to be careful with the missiles.
18 February 2014
---