Product Image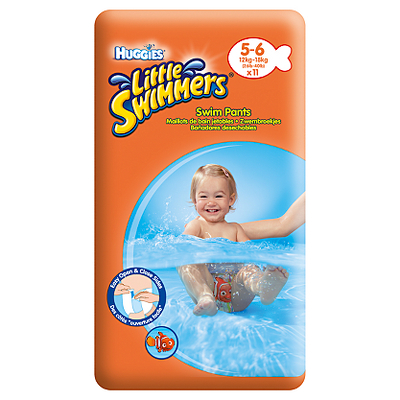 Product Details
Description
Huggies Little Swimmers size 2-3 have been specifically designed for babies under 6 months in a nappy format with adjustable tabs to offer a secure fit and make it easier to change.
They have special absorbent material that won't swell up like a nappy
Huggies Little Swimmers swim pants help protect from little accidents for non stop water fun
The fun, colourful Disney designs mean you can use them just like a swimsuit
Easy open and close sides make change time a breeze
Leak guards to stop leaks and protect from little accidents

Full Specification
| | |
| --- | --- |
| Size | 5 |
| Pack Quantity | 12 |
| Sub Brand | Little Swimmers |
| Maximum Child Weight | 18kg |
| Minimum Child Weight | 12kg |
| Pack Size | 11 |
| Product Type | Swim Pant |
| Type | Swimming |
| Weight Range | 12-18 kg |
| Brand | Huggies |
Rated

4.7

out of

5

 by

2264

reviewers.
Rated

4

out of

5
 by
liniline
Best for swimming
These are definitely the best diapers for swimming or other water activities. I like that they have a design so putting a swim suit over them isn't really necessary. The only issue we had with them is that they seemed to run a little small for our, but he has always been taller and with fairly large thighs. Nevertheless, they did manage to keep his mess in and never leaked even when we used the smaller sizes that were a bit too tight.
02 March 2013
Rated

4

out of

5
 by
RomanVyAlejandro2
Used both popular brands..better fit!
I like that the little swimmers tend to cover more area on my son. Wear the other brand is a shorter trimmer fit. As for containing BM well he never did go #2 and I know swim diapers are meant to absorb urine so won't fault anyone there. Obviously they don't have whatever the absorbing stuff is in them or they would SWELL UP. Fit is great, we like the Nemo design much more than Pooh though at his age. Say keep Pooh in the small size!
06 August 2011
Rated

5

out of

5
 by
kikigoldgrab
Summer must have!
These swim diapers are summer must haves. I put these under my son's swim trunks (or sometimes he wears them without) and they don't get puffed up like diapers do. They are easy to put on and the side tabs rip easily so I can get them off quickly. They actually are easier to use then his regular diapers- which makes us both happy. Thanks Huggies for making a product that saves Moms time which means we have more for our little ones!
09 August 2012
Rated

5

out of

5
 by
holly1015
Swimmers!
I love the little swimmers I have used them on all 3 of my kids and I love them. They hold everything in and it gives them a chance to learn how to swim. It is really nice on the hot summer days to go on the river and know that they are not going to get all saggy with a regular diaper on. These swimmers do not swell up like a diaper which is the best. Highly recommend the swimmers for anyone that likes to have fun in the sun/water.
07 March 2013
Rated

5

out of

5
 by
Nancy1452
Little swimmers is a big help!!
My daughter didn't really like to swim but I still bought the little swimmer because we had a pool to swim in and everyone was always swimming. So I tried getting her use to swimming so we had bought the big box of little swimmers for her and she slowly got used to swimming, before the summer ended she was then comfortable swimming it was a good thing because now she finally like to take baths, she didn't like taking baths either.
21 October 2012
Rated

5

out of

5
Great For The Pool
We practically live in our back yard so she's always getting wet whether it's the hose, rain, puddles, sprinkler or pool. I made the mistake once not using one and the beads in her diaper exploded all over her (poor baby!). She's pooped in them a few time during one of our weekend pool day and I had no idea until we went inside because it never leaked or smelled at all! They even fit under her little bikinis and still look cute :)
12 July 2012
Rated

4

out of

5
 by
alexis4726
Great product for children in diapers
I bought these one time instead of the other brand, and I found out very quickly that these are better than the other brand. I love the absorbency, the price, basically everything about them. They are awesome, easy to use and easy to carry with us when we go to the beach or to the pool, they also are fashionable which makes them fun for my kids to wear. I thought that they were simply one of the best, turns out they are the best.
27 April 2011
Rated

4

out of

5
 by
sorrell49
Work great, but run small
These work amazingly well. We just spent 2 weeks in Florida in the water every day, and my daughter never had an issue with these. I like that they tear off, because trying to pull off a wet diaper would not be fun. However, trying to get them on, they seem a bit snug. She was at the low end of the weight rating, and she's very thin, but it was a little hard to get them up. Perhaps this is so they will stay up when they get wet?
28 May 2011
Rated

5

out of

5
 by
emcnally
Best summer Accesory
WE just love the the product, our daughter loves the water and having such a great product never made me think twice about leaks. With my older son we tried to "special designed" water pant and it doesn't even comapre to this product. We are looking forward to using it when we go on our first familiy vacation to Disney world and we plan on alot of swimming. Thanks Huggies you really do think of everything a mother needs. Erin
26 August 2011
Rated

5

out of

5
 by
SuriW
Splash Blast
I used Huggies Swimmers all summer long whether my twins were just wadding around in the backyard or on trips to water parks or the pool. They last for hours (or until the child needs changing) and keeps kids and the water clean. I just made the transition to Huggies PullUps for my twins in preparation for toilet training and when I put them on one of my twin sons for the first time he asked me if we were going swimming. :)
13 September 2011
Rated

5

out of

5
 by
kahawa101
Great Swim Diaper
These diapers have been a great addition to our summer. We frequently go swimming at the beach and pool. The small size fits my 7 month old perfectly and the medium fits my petite two year old. We've never experienced any leak issues, although sand will get inside (as it does any swimsuit when at the beach). My opinion is that these fit on the small end of the spectrum, which is good for our family since our kids are petite.
11 August 2014
Rated

4

out of

5
 by
BJoyia
Essentials - with a most obnoxious character desin
These diapies are absolutely indispensable essentials for water fun with babies and toddlers!! It is just soo sad that they aren't available without that obnoxious tasteless all-over flash-color character design!! If only they made these in an unobtrusive plain faintly or uncolored alternative which doesn't clash with, shine through and stick out on every end under your little cutie's most ravishing little swim dress!!!
03 May 2012
Rated

5

out of

5
 by
shaunag710
Huggies 2cd greatest product invented
These little gems by Huggies is your summertime outdoor put to use and carry on with the all the sun fun and water activities your little ones heart desires answer to most parents worst fear when involving water and a yet to be potty trained toddler. My son is 4 months old and these Swimmers "keeps things" from becoming a pool additive. Next to Lil Snugglers, this product ranks an easy 2 on their best inventions yet list
02 July 2011
Rated

3

out of

5
 by
Jigzonweb
should b made in different size instead of S, M, L
I am used to buying diapers by size and had difficulties selecting the right size for my elder son. M was tight and L was big. I did not wanted to buy Pampers but I finally switched to Pampers and found the right size. Huggies should make this product based on diaper sizes and not in S, M, L... average sizes. Like me many other regular customer may switch to different brand and may never come back to Huggies in future.
17 February 2011
Rated

5

out of

5
 by
browngm
Cute and work well!
My family has a lake house and we go just about every weekend. My baby loves the water. These little swimmers go well with her bathing suit. They are not so bulky that they hinder her movement and they do not absorb a lot of lake water either. My little one doesn't like to sit in a wet diaper, but she doesn't mind her little swimmers. I love the cute little characters. I just wish they came in some smaller sizes too.
21 August 2011
Rated

5

out of

5
 by
BBBoo
best swimpants
These swimpants are so well-designed. First, they are easy to put on and stretch easily over my baby's bottom. Second, they fit very well, tight enough to hold in any poop but comfortable enough to allow him to move around and have fun. Third, they do not swell up like a diaper when wet. They are made of strong, good quality material that does not tear when wet. Finally, they look adorable with colorful characters.
25 May 2013
Rated

5

out of

5
 by
Housedad
Non-stop fun in the sun
We tried a couple of different styles of swimpants on price alone last summer but found they wouldn't last as long as the baby girl... we're going with Huggies Little Swimmers this year exclusively. It doesn't take alot of smarts to know that 1 diaper is cheaper than 2 diapers. The other brands just don't hold up like Huggies and at a public water park my little girls comfort and cuteness are very important to me.
28 March 2013
Rated

5

out of

5
 by
brandi628
So helpful
I have used these for years for our daughter with special needs they are great and now that she is getting bigger and out growing them I have tried other brands that come in bigger sizes and they are no where as good. The only thing I wish was different about these is That they came in bigger sizes that way we wouldn't have to use any others. These are very durable and don't weight her down love love love these!
19 January 2013
Rated

1

out of

5
 by
Smiles84
We assumed these would be great for taking our daughter swimming; that they were water proof. They weren't. The Little Swimmers still took in water from the pool so, when she went potty, she blew out. Being at a public pool, that was very embarrassing. Thankfully we weren't in the pool at the time. Yes they don't swell or explode like diapers do but that can make it harder to tell that a diaper change is needed.
07 October 2012
Rated

4

out of

5
 by
ColeMsMommy2011
Little Swimmers Make Water Play Easy!
We bought my 5 month old son a little swim diaper bathing suit. Which works well at home for his little pool, but we failed to realize one poop and it's out of the pool. The swimsuit has to be washed, so a trip to the lake or a public pool is out of the question, but with Huggies Little Swimmers that is not a problem. We can take several because they are so easy to take off and put a new one one. We love them!
16 July 2011
Rated

1

out of

5
 by
MommyOsborne
Waste of Money
To see how absorbent they are, put them on your child out of the pool and wait until they urinate. You'll have a kid in a big puddle. All you really need to do in the pool is hold in solid waste, and unfortunately, we've found these really don't do that either (they're not tight enough around the back of the waist). Buy a decent fabric diaper once and you'll never have to spend money on swim diapers again...
11 July 2011
Rated

3

out of

5
 by
tink1990
Wish They Had Smaller Size
I took my two month old on her first vacation to florida :), and i wanted to take her swimmming, well i could not find a swim diaper in her size, she was only 9 pounds. so i had to use one of her cousins(who is ten months old, a huge boy and still has to wear small?) how do they expect us to take little ones swimming? But i have to say even with the diaper coming up to her neck, it still held everything in :)!
20 November 2010
Rated

5

out of

5
 by
cmonkey09
great even for small babies
my daughter was a few months old when we had to stay at a hotel for about a month because our place got flooded with the hotel having a pool i wanted to take her in it to see how she did and to test out the swimmers i found the smallest size i could and put them on her and wow these things are amazing,i was really impressed after trying them we went swimming a few more times easy to change and cute characters.
11 April 2014
Rated

5

out of

5
 by
rjhill612
Excellent Product
Little Swimmers are certainly worth the cost. They do not swell up at all in the water. My baby boy loves to kick and splash in the water, but had trouble doing that in a regular diaper that weighed him down. The Little Swimmers do not weigh him down at all. They are easy to put on and take off, which is necessary with a wiggly little guy. They are soft and stretchy so I am sure my son is comfortable in them.
26 August 2011
Rated

5

out of

5
 by
allovelee
If Only
Over The weekend my two year old and I visited the pool, we were there for at least five hours because he didn't want to leave. After being in the pool for five hours there should be some kind of moisture to these little swimmers, but to my suprise, they were completely dry. The next day we visited the pool and used the same little swimmer. If only pampers were this obsorbant I'd sure would buy less pampers.
02 July 2012
Rated

2

out of

5
the only swim pants that work
First time I tried Little Swimmers was at our public pool where Little Swimmers were sold, in singles, at the front desk. No baby or toddler was permitted in the pool without them. At first I was taken aback at what I perceived to be a nasty money grab, but once I put them onto my granddaughter, I realized how well they work. I mean, these things hold in just about anything, without absorbing half the pool.
03 September 2014
Rated

4

out of

5
 by
tdr10202010
Does the job...in the water only
Little Swimmers is a great product. It does what it is suppose to...catch your baby's waste while he/she is in the water. In addition, it does not bulk up like a regular diaper would when exposed to large amounts of water. Due to it's nonabsorbent design, however, it will NOT catch your baby's urine while on dry land. You will need to change you baby into a regular diaper as soon as your water play is done.
14 October 2012
Rated

5

out of

5
 by
TMcInnes
this product was amazing. all i hoped for when i bought them was to not have an exploding diaper when my daughter got out of the pool. she was in there for hours and and it was about as full looking as when i put it on her. and when we were done swimming, all i had to do was rip the sides apart to take it off, so no laying her down and getting the floor or bed wet, we just did it standing up in the kitchen.
25 August 2011
Rated

1

out of

5
 by
kelliemz86
Not what I thought!
I used these on my 12 month old son recently on vacation and they fit good but leaked a lot! So bad that we actually were about to put regular huggie diapers on him while at the ocean! I use huggies snug n dry and LOVE them! I never had a problem with them so I don't know why I am with the swimmers! My son also smelled like pee SO bad after just going once in the swimmers! Ugh.... It wasn't a good time....
18 July 2012
Rated

2

out of

5
 by
jesse4941
Long, Skinny Baby
I love the idea of these diapers, I just wish they came in an extra-small. My child's doctor has cleared her for waterplay, but I can't find swim diapers small enough. She is long and skinny, so I can't use the pound suggestions on the packaging. She was 8 lbs 8 ozs at birth, grew at a normal rate, but stayed in newborn size diapers for almost 4 months! I have known a few other mothers with this issue.
20 June 2011
---