Product Image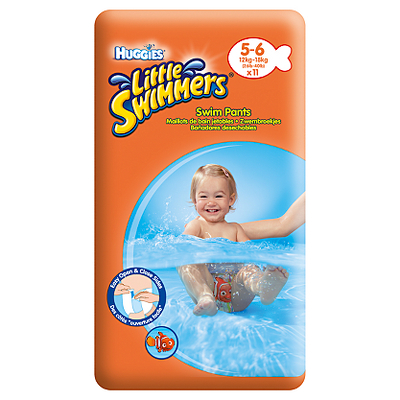 Product Details
Description
Huggies Little Swimmers size 2-3 have been specifically designed for babies under 6 months in a nappy format with adjustable tabs to offer a secure fit and make it easier to change.
They have special absorbent material that won't swell up like a nappy
Huggies Little Swimmers swim pants help protect from little accidents for non stop water fun
The fun, colourful Disney designs mean you can use them just like a swimsuit
Easy open and close sides make change time a breeze
Leak guards to stop leaks and protect from little accidents

Full Specification
| | |
| --- | --- |
| Size | 5 |
| Pack Quantity | 12 |
| Sub Brand | Little Swimmers |
| Maximum Child Weight | 18kg |
| Minimum Child Weight | 12kg |
| Pack Size | 11 |
| Product Type | Swim Pant |
| Type | Swimming |
| Weight Range | 12-18 kg |
| Brand | Huggies |
Rated

4.7

out of

5

 by

2341

reviewers.
Rated

5

out of

5
 by
hottietoddie08
Have used them all summer long
We have several family and friends with pools, so we knew we would be swimming a good deal this summer. These little swimmers are the best. There is no way a baby can swim in a regular diaper. They bloat up so fast. These are great, and Huggies releases coupons for them all summer. We have even dried them out and reused them. We keep one in the diaper bag all summer just in case we need it. We will definitely keep using these in the summer until our son is potty trained.
14 July 2011
Rated

4

out of

5
 by
mommaofTrenton
Good Buy! LOVE!
My son loves the water so much! and these make it so much easier to take him in. They do say in the description that they won't swell up with water, (although not like a diaper would) the swimpants still got a little fat and saggy and that when he got out a bunch of water came out. We just took them off and wrapped his little naked body in a towel :D They may just have been a bit too big though. We LOVE these pants and will rely on nothing but Huggies for our BabyBear!
16 June 2013
Rated

5

out of

5
 by
Jodie72
Smartest Idea
The first time my baby girl was in a public pool she was 8 months and I didn't see the point of getting a "special diaper" because I didn't plan on having her in the water long. Big mistake! I was so embarrassed when it started getting droopy and leaking.Needless to say we cut the swim day shorter than planned and I made sure I had Little Swimmers Swimpants from then on. The next month we went on a vacation to the beach and had a blast....and no embarrassment. Thanks!
15 April 2012
Rated

4

out of

5
Need to make an XS size
We signed up for mom/tot swimming classes when my daughter was 2months old and roughly 10-12lbs. They were rather large at first and I was doubtful if they would do their job being that they were so big on her. They held in the majority of the messy stuff. Once she got bigger and fit the size requirements they fit like a charm and hold in everything she throws at it. My only complaint would be they are a bit difficult to pull on, side tabs would be great if feasible.
12 November 2011
Rated

5

out of

5
 by
xxjadegardenxx
no one wants a saggy diaper
At first i just had my son in a regular diaper to swim in our pool in the back yard and his diaper filled quickly and it swelled so much that we could all see his little bum. so i got the swimmers and they are so nice they stay on and hes comfortable i find i dont even need to put a swim suit on him. its nice because they have characters on them so he gets excited to see which one he gets. They also hold the messes very well alot better than any other could in water
14 June 2013
Rated

5

out of

5
 by
rose02169
GREAT PRODUCT
my daughter was only three months old when we were ready to take her out to the pool. We could not find any swim diapers small enough for her that would stay on in the water. After purchasing the smallest size we could in Huggies little simmers we could now enjoy our time at the pool. there werent the most perfect fit but they atleast stayed on her little bottom and kept everything inside the swimmer diaper. Thanks to this product we had a great summer at the pool!
11 January 2012
Rated

5

out of

5
 by
JohnMele
Great Product
Every time we use the pool or go in the ocean, we use little swimmers swimpants for my daughter. They fit well and keep #2 from going into the water. The elastic band that holds the swimpants snug to your child is key to their success. We've been using them since my daughter was 6 months old. They work great; every kid should have some in stock. Just be sure to have a pair of scissors on you for when it's time to change out of them so you can cut both of the sides.
29 December 2011
Rated

5

out of

5
 by
ABrill
Great Swimming Diaper
These diapers work great! I would highly recommend these diapers for all the little swimmers out there. My baby used these diapers several times and we have never had any problems. They tear away sides are very convenient. Also, I feel comfortable that my baby is dry, as dry as she can be while swimming, the diapers are never waterlogged after swimming. They aren't bulky and don't get bulky after being exposed to the water so they fit under her swimsuit just fine.
19 July 2011
Rated

3

out of

5
 by
jennife0
Not bad
These are just like any other diaper swim pants out there. The only thing I wish they would do is come in much smaller packages. The climate I live in is not very condusive to swimming much. We ended up having to buy an entire pack while visiting grandparents who have a pool and only used 2 diapers. I wish we could purchase these is just 4 packs or a 2 pack as we just ended up giving the rest away. For me it was a waste of money that I simply do not have to waste.
16 October 2011
Rated

5

out of

5
 by
XiosMama
AWESOME!
During my daughters first summer, i stayed away from swimming because i didn't know there was a swim pant like these. But during this past summer, her father found them in the drugstore and figured to give them a try. They worked so well for us, we never thought of looking for other brands. and she was so comfrtable, at times when we would tell her to get a diaper so we could change her, she would grab a lil swimmer,as if to tell use we she wanted to go swimming.
30 September 2011
Rated

5

out of

5
 by
anmjensen
Amazing product
Good bye to the days of a water logged diaper falling apart and bulging to the point of exploding. Hello simple life. I used Huggies little swimmers with my son when he was younger (now 5 1/2 yrs old) I absolutely loved them. They are simple to slip on and off. Best part if you're little one has a potty accident they can come off just like a diaper by simply tearing the sides. I would recommend this product to any mother with a baby who loves to be in the water.
04 February 2012
Rated

2

out of

5
 by
HurricaneBetsy
Was disappointed!!
I had my Grandson in the pool with me for about an hour. After I got him out, I was a little upset to find crystals leaking out of the swimmer. No, he had not snagged it on anything. I was holding him the entire time we were in the water. He was only 9 months old. I am getting ready to get him back in the water again with me and I don't have any other options but this brand. If it happens again, I will go back to cloth diapers and a diaper cover. The leaking crystals got all over everything. It took me days to get them out of the bag that I was carrying. Since I had to put if I would recommend the product or not, I did put yes. That is until it happens again, which I hope that it doesn't! My Grandson is now 19 months old. It has taken me that long to get the courage back up to get him back in the water with these things on.
15 February 2013
Rated

5

out of

5
 by
HRTOFAU2
Hold up well
Having twins, the last thing that you need is a product that fails you. Especially when your away at say the public pool. My twins used these diapers all summer every time we went swimming. (Including in local rivers) They held up amazingly well! The twins had a blast at the river, digging in mud, and "river gunk" But when it came time to pull off the pull ups ~ butts where amazingly clean considering what the outside of the diaper looked like! Great product!
14 September 2012
Rated

4

out of

5
 by
sreaves
Great for a day at the pool!
I've used these for all of my children, nieces, and nephews over the years. Overall, it's a great swim diaper. It's easy to pull on and tear off for changes.Keep in mind that it's a WET diaper. Therefore, I recommend changing the diapers often if you plan to play in the water all day. Leakage has never been a problem. The prints are cute but I use them under swim trunks. It just looks better. It would be nice if the diapers came in an XS (extra small) size.
05 August 2011
Rated

5

out of

5
 by
nativemomma1027
easy
i used the swim pants with my son they were great no dipper fluff in the pool and the one time he made stinky pants in the pool it staied in the swim pants till i got him in to the bathroom to change him even with the water that it had soaked up so easy to get on when dry and remove when needed(to change stinky butt)and easy to put on a clean one even with him wet from swiming any time i take my kids swiming till potty trained they are all ill put on them
31 January 2012
Rated

5

out of

5
 by
Daddyof2wins
Outstanding product!!
My twin daughters were only about six months old at the time we purchased and used the smallest size of Little Swimmers; they fit surprisingly well considering my daughters were born premature (about average for twins... but premature overall). There was not a single incident throughout the day as these diapers contained everything. These are very well made and I highly recommend them to anyone looking to have a good time in the water with their children.
08 August 2014
Rated

5

out of

5
 by
kristen1983
LOVE LOVE LOVE THESE!!!!!
I have to say if you are a parent with a child who likes to swim, then these are a MUST! I have used these for the past 6 years (6, 5, & almost 2) and have always been very pleased and happy with their performance. Prime example, the family went swimming yesterday and my littlest one had a not so solid bowl movement.....not one drop/mess anywhere! It held everything in and cleanup was a cinch with the tear away sides. I would recommend these to everyone!
04 June 2012
Rated

5

out of

5
 by
NicoleE74
Great purchase
I took my 7th month old swimming a couple of weeks ago. I bought the little swimmers to take use that day. I started hiim out in the pool in a regular diaper just so I could compare the swim diapers, The diaper was huge immediately after we put him in the pool. The little swimmer diaper seemed so much more comfortable for him. It expanded some but nothing like the regular diaper. We will definitely use them the next he goes swimming. Great invention! :)
30 June 2012
Rated

5

out of

5
 by
ShalinaRM
As Comfort as a Regular Diaper
Not always susceptible to change, my son is just as comfortable in Little Swimmer Swimpants as he is in a regular diaper. He has worn them alone in a kiddie pool as well as underneath swim trunks in a public pool and at the beach. Little Swimmers swimpants don't swell with water or bunch up and my son hasn't had any "potty" accidents while wearing them. Also, their tear-apart sides take the hassel out of struggling with wet swimwear. Just tear and toss.
31 October 2011
Rated

4

out of

5
 by
edgeofexistence
Very good
We bought one package of these for our recent trip to Florida. I was a little nervous about putting little one (6 months old) in the pool for the first time - and luckily, these diapers did not add to my concern. They were great with holding in his urine, although I found that after he had been in the pool for 30 minutes, it seemed best to change the diaper because they got pretty saturated and seemed unable to hold much more (hence 4 stars instead of 5). If you do this then I don't think you have to "double up" with other diapers, as some people recommend. We went swimming every day with these, and we never had an issue. I think the size recommendations based off weight seem pretty accurate. We were happy with our purchase, enough that we purchased several more packs in anticipation of hitting the pool throughout the summer again.
25 June 2014
Rated

5

out of

5
 by
ErynnM19
Best Swim Diaper
My son's body shape is hard to fit. He has a narrow waist and a long rise. These diapers fit him perfectly! The Huggies brand in general always fit his body shape the best. I tried other brands of swim diapers, disposable and non, however these were still the best! They absorb the babies mess but not the water from the pool! Not only are they super cute, they also remove very easily afterwards for a quick change! I highly recommend these swim diapers!
30 November 2011
Rated

5

out of

5
 by
nannon1390
Fuss-Free
Once my son hears that we're going to go out and play in the water, it's almost impossible to keep him still long enough to change him into proper water attire. Thats why we love these Little Swimmers. They go on quick and easy. They also come off quick and easy when play is done. For a little boy thats allways on the go, it helps to have things made easy. Plus my son is small waisted and these are the only swimmer pants that fit his petite figure.
28 July 2011
Rated

5

out of

5
 by
krysta31
Love this product!
My family and I love going to the beach and Little Swimmers is a must have item. We have used this product on all of our boys and are very pleased with this product. Diapers swell up and get weighed down when submerged in water but Huggies Little Swimmers do not swell up and still provide great protection. My boys have never complained about them being uncomfortable. Love this product and I would and do recommend this product to family and friends.
27 October 2012
Rated

5

out of

5
 by
aliandaaron
worked like a charm!
We purchased these new diapers for our new little one so he could test the waters for the first time. Not only were we impressed by the ability of the product to hold in baby's little messes, but honestly they were easier to get on the little wiggle worm than our normals diapers. These fit snugly, hold up well, do exactly what they were designed to do. We recommend these to all of our friends with little ones, and we recommend them to all of you.
07 August 2011
Rated

4

out of

5
 by
MyBeauty0949
Works Great-But not for hour long swimming
The product helps for swimming for my little one, but she stays in the water for about 2 hours at a time. By that time, I have to change her Little Swimmers twice to keep her from peeing in the pool. She loves them because it allows her to swim and I love them too. I just wish they could somehow have them be alittle more obsorbant, but at the same time not allow the contents from spilling out into the pool. I would still recommend this product.
16 July 2011
Rated

5

out of

5
 by
Cherreek
I would wear them!
I always want my babies to be comfortable. Before I let them wear something I try to think to myself if it would be comfortable enough for me to wear. The Little Swimmers seem to fit perfect on my baby and he doesn't seem to become uncomfortable as he plays in the pool. They don't droop or weigh him down. The tear-away sides are an added bonus helping me to get my baby dressed faster since he is fighting me to get back into the pool. Love them!
23 May 2012
Rated

5

out of

5
 by
whobodybusch
2 Little Girls
With 2 Busy little girls just over a year apart this sure makes "fun" days easier! With or without bathing suits over, this is a great product. We always carry a few with us, just in case! We were exploring a new park and surprise, they had sprinklers! We were all set on a hot day. Great product. So easy to use and keep on hand for unexpected adventures! We even used them while exploring a creek. No worries about muddy stains on cute suits!
19 November 2013
Rated

5

out of

5
 by
Erikamplus3
Did the job!
Hi I'm a mommy of 4 wonderful kids, and never had I really been the type to buy or even consider using swim pants for my kids, I always just thought that it would have been a waste of money! But then I received a small pack of huggies little swimmers and I thought, "what the heck, it wouldn't hurt to just put them to use!" So I did just that and ... To my surprise THEY ACTUALLY WORK!! I love them and would use them for a next baby!!!:):)
09 March 2013
Rated

5

out of

5
 by
Jordan08
Great product for over 7 years
I used these on my daughter around seven years ago they were GREAT, and I have used them on my 3 year old and they are still great. They do not sag, and fit well without leaks. I bought the other brand of disposible swimmers this last summer, and when worn for about 15min they started ripping at the sides, and one ripped when I put it on my stepson who was only 25lbs and I was putting a 4T one on him. These are the best for your money.
27 January 2012
Rated

4

out of

5
 by
lasotak
Water Baby
My little water baby loves these! We got them at the beginning of the summer when she was four months old. They fit great, worked wonderfully and I loved the striped design! She looked super cute and got to enjoy the pool with her big cousins. Now we are almost out and will have to get more for the winter (we live in AZ). I already bought a pack for my sister's new baby for when they come to visit, since we've outgrown the small size!
17 October 2012
---