Product Image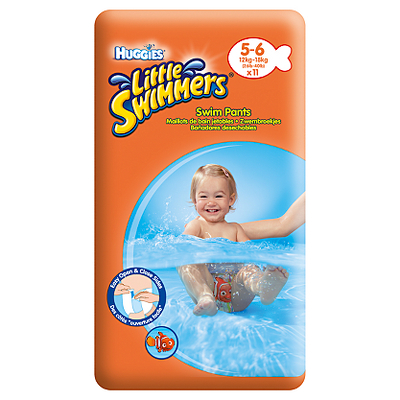 Product Details
Description
Huggies Little Swimmers size 2-3 have been specifically designed for babies under 6 months in a nappy format with adjustable tabs to offer a secure fit and make it easier to change.
They have special absorbent material that won't swell up like a nappy
Huggies Little Swimmers swim pants help protect from little accidents for non stop water fun
The fun, colourful Disney designs mean you can use them just like a swimsuit
Easy open and close sides make change time a breeze
Leak guards to stop leaks and protect from little accidents

Full Specification
| | |
| --- | --- |
| Size | 5 |
| Pack Quantity | 12 |
| Sub Brand | Little Swimmers |
| Maximum Child Weight | 18kg |
| Minimum Child Weight | 12kg |
| Pack Size | 11 |
| Product Type | Swim Pant |
| Type | Swimming |
| Weight Range | 12-18 kg |
| Brand | Huggies |
Rated

4.7

out of

5

 by

2266

reviewers.
Rated

4

out of

5
 by
babydamiensmom
Only swim pants i buy
These work great for the water. No swelling up. You have to have swim pants for public pools and fountains(most places its a rule). With these you get more swim pants for your money than the other brand and they are in a wider variety of places. I would give these 5 stars if it weren't for the couple of mishaps I've had when i put them on my son and we ended up not getting in the water he ended up leaking urine out all in his car seat. So, i would say they need to be changed a lot more frequently than a regular diaper in order to work properly.
27 September 2011
Rated

5

out of

5
 by
dhinkel
Product Design
My wife and I love the Little Swimmers. They hold so much water still allow for the occasional accident and do not fall down when faced with the weight of a super soaked bottom. Our one complaint is the designs used on the outside. We love the movie Nemo but the movie is quite old. We also love Pooh but he is a classic character. Perhaps as you do with the Pull-Ups, you can update the designs more frequently, or simply do a Hawiian beach theme. Maybe look at swimsuite trends and design them after those. After all, you have those denim diapers.
06 August 2011
Rated

5

out of

5
 by
mclingman
1st time swimmer
I bought a pack of small swimpants for my 10 month old son along with a pair of swim trunks so he would have options depending on where he was swimming. We brought him on his 1st camping trip last weekend and as an afterthought I packed a couple of the swimpants. Thank goodness I did because they did have a beach area and he got to experience swimming for the 1st time. He loved the water! As advertised they did not puff up and they also kept all the lake debris off his delicate parts which the net liner in the swim trunks would not have done.
24 May 2012
Rated

4

out of

5
Colorful and Cute for the Summer
The characters and the colors on these pants are so cute and bright - it's easy to see the little one running around. They are really tall so covering up these cute swim pants with another kind of bathing suit just looks weird. They're slip on and easy so with a cute little shirt and hat makes a cute enough little ensemble for the summer time. Besides, they seem to have some kind of SPF or provide enough sun protection their bum doesn't get sun burned. Baby and I had a great experience with them this last summer. Looking forward to the next!
04 December 2011
Rated

5

out of

5
 by
DRPMOM
Accident Proof Water Fun
I bought these this summer because my son is now 19 months and loving water play. My first attempt in his kiddie pool was with a regular diaper. It ended up absorbing so much water I am pretty sure it weighed more than him. Using little swimmers stopped the water absorbing and made the water accident proof. They are light weight before and after water fun. They fit comfortably as well. I love most of Huggies products so far. The only negative about the little swimmers is they slide up and down, so while taking them off after water play, they can stick to the legs alittle (like a bathing suit). However, this is a very minor negative. Off course I would rather they slide too so my little one doesn't decide to take them off any sooner then needed.
26 June 2011
Rated

5

out of

5
Very Helpful for busy Mother
I have 3 children 14, 7 and 1. I have never used these little swimmers with my other children, but we were going out of town to visit family and at our hotel was an indoor pool and I knew my one year old was going to need something when we went swimming, so I went and bought the little swimmers and LOVED them for my baby. My baby was able to play in the pool for hours with out any problems. I would and will use these for as long as my baby is still in diapers. Thank you Huggies for making a busy mothers life a lot easier.
09 October 2011
Rated

3

out of

5
 by
heatherjoyw
meh
my daughter has never been the type to poo in her diaper, even when she was very small she would wait til I was changing her to poo, we tried the swimming diapers once when she was about 6 months old, seeing that she refuses to poo in a diaper and the fact that pee permeates right through them i didn't see the point in continuing to use them, she's three now and i still have the remainder of the package in a drawer. i have a pool in my yard and have never had a poo incident . Maybe baby #2 will get use out of them.
01 March 2012
Rated

4

out of

5
 by
arcangelgold123
Great Swim Diaper No Mess
Little swimmers is a great swim diaper, you can have confidence when you take your baby out to the pool or on camping trips where you are swimming or going near water, because you won't get bulky mess that makes the diaper fall apart, nor will it fill up and sag until babies pants fall down. I gave this product a 4 instead of a five only due to price point. The price is still a bit high for my taste. I often purchase one Little swimmer diaper at the swimming pool for a small fee rather than keeping a stock at home.
27 February 2012
Rated

5

out of

5
 by
ctr04
Napping in the Swimmers
These swim diapers were amazing! They held up so well. My son loves to swim. Our public pool has a safety check every hour and he would scream his head off when we had to take him out of the water. He wouldn't even get out to take a nap. He woke up and started crying when we tried to take him out cuz he fell asleep, we put him back in the water and he went back to sleep. It was so adorable! I'm so happy we had these diapers to put him in and we didn't have to worry that we would have to leave because of a mess.
28 November 2010
Rated

5

out of

5
 by
laurenkw88
Cant Wait for Pool Time
My godson used these when he was a baby and they were wonderful! Now, I have a 8 month old and yay! Its that time of year, so tomorrow actually we are going out and getting her a baby swimming pool and some Little Swimmers. I cant think of much worse than having a nasty done in a pool, even if it is her little personal one! I have been so excited to introduce her to the pool and swimming, because she loves being outside and she also loves bathtime! So perfect combination! Since there isnt much you can do for pee in the pool, diaper or not, I think these are more geared towards a number 2 accident from happening in the water. Not to mention, its pretty impossible to put a baby in a normal diaper into water because they fall apart. These are great! I am so excited to get some!
15 April 2012
Rated

3

out of

5
 by
Stacey1086
Unsure...
It is hard for me to tell what is the front and what is the back of the diaper...if it matters? That's my issue I guess, I don' know! I do know that my son has leaked right threw them more then once just trying to get to our destination. (which can't be more then one pee or maybe two...) Once he's wet from the pool or park or whatever, who would know the differnce-but we've ruined some outfits getting there. I guess they are mostly meant to just catch the #2's and let the chlorene take care of the wet stuff.
19 June 2012
Rated

3

out of

5
 by
trickyb
too big
i really wish you would make this product in a smaller size my dr ok'ed our baby to go swim. but all swim diapers start at 16 lbs! very frustrated i had no choice to buy them. they were way too big on her went all the way up and over her belly button too large in the leg and made her swimsuit bulky. obviously this wouldnt have happened if she were at least 16 lbs. i do like the winnie the pooh and nemo package that we got and hopefully she will grow into them. but disappointed nothing in nb or early size 1.
09 October 2012
Rated

4

out of

5
 by
MaxsMom15
Wouldn't go to the pool without them!
The diapers are great if you swim, go to the pool or the ocean alot. They really aren't absorbant but they do prevent the "leaks" that would happen if your child peed in his/her swimsuit without any diaper. God help you if your child poops in them though - what a mess!! Our state requires children in swimmy diapers to also wear rubber pants on top of the diapers (but under their swimsuit). That's a good way to keep the poop (which really just smears and liquifies) from leaking out of the diaper and into the water. The rip down sides make it easy to get the diaper off a wet child but, especially if there is poop in the diaper, there is no way to wrap up and seal the diaper (like you do with the velcro tabs on a regular diaper). So, be near the garbage can when you take these off!!!
10 October 2011
Rated

5

out of

5
 by
mavijt210
summer saver
i remember my older sisters using these on their children and thought how cool. i use these on my son because he and i both love to be in the pool swimming. people told me not to waste money and just leave his diaper on but i know that would get to heavy and uncomfortable for him. i love these and will continue to buy them. a helpful hint tho: it didnt occur to my sisters tho that any urine just flows right out, the lil swimmers only hold solids so do keep that in mind when you step out of the water.
12 July 2012
Rated

5

out of

5
 by
yoana
Best Swimer Helper
The Little Swimmers were exactly made for my baby girl. There were just great they helped me when i needed them. My baby girl was 1 year and 9 months and of course she couldn't enter with her huggie diaper so he had to make a choice between pampers and huggies so i choiced little swimmers by Huggies they were just for her nothing went wrong while she was in the pool with me. Instead of crying she smiled and laughed all the time she was in the pool Thank You Little Swimmers for the wonderful moment!.
30 June 2011
Rated

4

out of

5
 by
mamakat201
Good for public, but save your $ at home!
This product is good for covering bottoms and catching dirty jobs, but I think it isn't designed to absorb pee pee so I think it just releases it into the water! With that in mind, I believe just plain panties would be a cheaper option for swimtime. However, these hold onto moving babies well, where panties might sag, and are good for swimming in public where people may not want to see little bottoms without swimmers on! Good product for public, but here at home I may switch to a cheaper solution!
21 August 2012
Rated

5

out of

5
 by
slwdg1016
Still the Best 9 years later
I used these on my first son when he was a baby, now he is 9 and his brother 2 and I use them on him as well. We love the pool and going in with a regular diaper is just not an option, so now that summer is rolling around along with sunblock I stock up on litte swimmers. I am not sure what the exact technology is when it comes to the swimpants not swelling but I think its the best idea ever!!!!!! Once my little guy is potty trained I will wait for my grandchildren and buy little swimmers for them.
05 May 2012
Rated

5

out of

5
 by
Bearcatfeet
Works great!
Our son is almost 2 months old, and we've already put the Little Swimmers to use. They keep in what they are supposed to, and they keep out enough water so they don't bog down like a regular diaper would. We bought the smallest size which starts at 16 lbs. I do wish that there was a smaller size available since our baby is only about 11 lbs, but he already loves the water. Even though they are a bit big on him, they have still worked with his swim trunks. I definitely recommend Little Swimmers.
11 September 2012
Rated

5

out of

5
 by
EOloughlin
Don't leave home without them
I had always purchased/used Little Swimmers for both my daughters. One trip to the lake, I forgot to pack one. I didn't think it would be that big of a deal, so my youngest went swimming in her diaper. Big mistake! Her diaper exploded and those little absorbing beads got everywhere. They were stuck to her wet skin and it was just really gross. Plus she was clearly uncomfortable during our outing. I now leave extra Little Swimmers in the car in case of an impromtu swim (or mommy just forgets)
15 October 2012
Rated

4

out of

5
 by
AlinaT
Love little swimmers!
These are great for days at the beach or pool! I keep them handy all summer so we are always ready for a swim. They slip right on and are pretty easy to get off of a squirmy and soaking wet toddler. My son loves that they have Nemo on them. The only reason I rated four stars instead of five is that I wish they could hold leaks better when out of the water... it would be easier if I could put them on before leaving the house for the beach or pool but I don't for fear of leaking in the car :/
31 August 2012
Rated

4

out of

5
 by
kenwgardner
need a smaller size
I am the father of twin 3 month old girls so they are a little smaller than other babies their age. I have recently started my girls in swim classes and they require a disposable swim diaper under a cloth swim diaper. The Little Swimers sit very high on my girls and are not as snug as I would like. I have friends with larger babies and the Little Swimmers fit them just fine. Is there a chance of an extra small for those of us that want to start our children out in the water at a younger age
04 June 2013
Rated

4

out of

5
 by
Angelgirl25
great idea
I have used these swim diapers for both of my older children and we absolutely love them. They are great because they don't puff up AND they don't give my son a rash like he gets when he goes swimming in a regular diaper. My only complaint about the swim diapers is that they don't come in a smaller size. When our daughter was a baby she was VERY tiny and even the smallest size was WAY too big on her until she was over a year old, now we are having the same issue with our new baby as well.
06 July 2011
Rated

4

out of

5
 by
ijadf
Very good product, a bit spendy but worth it
Swim diapers are so expensive, but they really are worth it. I bought a package of size small for my first child, tucked away the extras and still had them for my second child (we don't swim terribly often). Bought a pack of mediums for my second child & now I have leftovers from both packs to use with my 3rd baby or to share with friends. Despite the cost, they have never leaked BM and they are quick and easy to put on and to change when soiled. Worth what you pay for them in my opinion.
27 May 2012
Rated

5

out of

5
 by
khaddix
Love Love Love!!!
I love these Little Swimmers. I think they are the neatest things ever made. Its awesome that they make it possible for the little ones to join in on the summer fun. Its kinda ify letting a baby go in a swimming pool but these Little Swimmers keep them protected continously with nothing going out and no water going in. I can't believe how they keep the water from swelling up in them. Plus, when its time to change, the tear away sides make it so convenient if you need to do it on the go!!
02 June 2011
Rated

4

out of

5
 by
TRACY5973
Couldn't have summer without them!
Love these diapers! My only frustration is that sometimes the stores can't keep enough of them in stock and so I've had to go to multiple stores to find them. But they are easy on and off, comfortable and absorbent. And they really work, keeping the funky stuff in-we had one accident this summer and it worked beautifully! I also like that they are not to scratchy around the belly, especially since they are made of different material. Wouldn't be summer if we didn't have our swimmers!
16 November 2011
Rated

5

out of

5
 by
JHaas7
SWIMMERS ROCK!
Let me tell you something, when our daughter was in diapers there were no "Little Swimmers", nor anything like them, and all the babies just swam naked or, more often, with a regular diaper on which would balloon with over absorption almost instantaneously. Little Swimmers are such a relief... and also, our son looks adorable in them. Honestly, he looks so cute that, especially when he was smaller, half the time we didn't even bother putting a swimsuit on over them! Thanks, Huggies!
26 November 2011
Rated

3

out of

5
 by
jamom07
Wish they were smaller
I took my baby swimming alot this summer and these were great. They don't fill up with water like regular diapers do. I just wish they came in a smaller size my baby was only a month old when we first took her swimming so it's a good thing she was a big baby. The only other draw back is you don't want to put them on too early before swimming since they don't swell they also do not absorb as well and she leaked a few times. May have been because they were pretty big on her also.
22 September 2011
Rated

3

out of

5
 by
babtboydec12
swim diapers
i love huggies! its all i buy. but the swim pants arent what i expected. i have a below average toddler weighing 20 lbs and the smalls are too small for her little booty. not to mention that they dont keep in potty like i thought they would. lucky for me shes never pooped in one, but if she had i dont think it would stay in. i will continue to use these swim diapers however, because i support huggies all the way and hopefully some day they will be more up to my expectations.
06 October 2012
Rated

5

out of

5
 by
JenChemist
The Best Swim Diapers, Plus Can WASH!!!
Okay, I have 2 little boys that have both exclusively used these swim diapers, and never had an issue with keeping things inside while in the water- you know what I mean. That doesn't mean I haven't had to hose them down afterwards, but it kept the pool clean! I have also learned that if you use one lightly (no solids), it can be washed in the washer on delicate cycle, air dry and use it again! Works up to 3 times, then the layers separate. But an awesome money saver. Enjoy!
02 December 2011
Rated

5

out of

5
 by
hottietoddie08
Have used them all summer long
We have several family and friends with pools, so we knew we would be swimming a good deal this summer. These little swimmers are the best. There is no way a baby can swim in a regular diaper. They bloat up so fast. These are great, and Huggies releases coupons for them all summer. We have even dried them out and reused them. We keep one in the diaper bag all summer just in case we need it. We will definitely keep using these in the summer until our son is potty trained.
14 July 2011
---