Product Image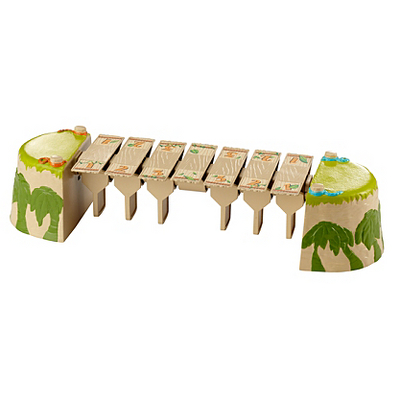 Product Details
Description
The toucans and the monkeys are trying to cross the bridge to take home their fruit, but in opposite directions! With a hungry alligator waiting below, they need to be careful and get across without getting knocked off to become prey. It's light strategy mixed with suspense and unpredictable destruction as players slide the alligator roller at the rotating planks of the bridge both in an attempt to knock their opponents off and to determine how many spaces they can move. The trick is to figure out how many spots to advance each of the movers. The first team across the bridge wins, but remember, you don't want to be knocked off and sent back with the hungry alligator lurking below! Ages 5 and older.
From the Manufacturer
About the product
Greedy Gator Game

Take your fruit and dash…before the gator makes you splash! Greedy Gator provides lasting gameplay for kids by combining skill, suspense, light strategy, and a bit of unpredictable destruction. The bridge is the tropical-themed setting for monkeys and toucans who are trying to take home their fruit (bananas and coconuts), but in opposite directions. Two players race to get their fruit across the bridge first without falling prey to the hungry gator below!

Brave the Bridge and Beware the Gator!

Each of the two players chooses between the team of monkeys and team of toucans. A player slides the gator roller toward the balancing planks of the bridge to determine how many spaces to move — and to try to knock opponents off the bridge. The number on the flipped-over plank corresponds to the number of spaces the player can move his pieces, and it varies with each level. There are three different levels to ensure Greedy Gator fun for all ages!

Make Your Moves Carefully and Strategically

Part of the strategy and excitement is figuring out how many spots to advance each of your pieces, so you're less vulnerable to a gator attack! Animals that get knocked off the bridge have to "climb up the bank" and start all over again. Plus, the Leap Frog Rule adds an extra strategic twist: Animals on your team aren't allowed to share a plank, so if you line them up just right, you can make them travel farther and faster in fewer moves — and win the game!

Features

Be the first team of monkeys or toucans to cross the bridge with your fruit, and you win!
Use the gator to take out your opponents and to determine how many spaces you can move
Gator has a rollerball underneath for sliding him toward the planks
Three levels let you tailor the difficulty of playBridge easily snaps together
Exciting and strategic fun for two players

What's in the Box?

Game includes bridge, five monkeys, five toucans, one gator, and instructions.
Full Specification
| | |
| --- | --- |
| Type | |
| Dimensions | 27 x 7.50 x 26.50 cm |
| Gender | Unisex |
| Minimum Age | 5+ Years |
| Model Number | X8733 |
| Product Type | Kids Games |
| Type | Games |
---