Fitness Machines
Advertisement
Home Fitness Equipment at ASDA Direct
Find yoga mats, exercise wheels and toning equipment at low prices. We want to help you get in shape and feel great with our range of home fitness accessories. However you like to exercise, we have something that will help you reach your training goals.
Exercising at home is an ideal way to get fit in those spare moments in a busy lifestyle. Shop and save with Asda Direct!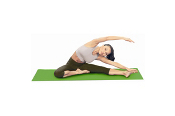 Sponsored Links (What's this?)
No sponsored links available
Sponsored Links
Asda Direct's Sponsored Links are provided by the Google AdWords™ program. Companies pay for these links to have their products and services appear with specific search terms. These listings are administered, sorted and maintained by Google.
Clicking on sponsored links will take you away from Asda Direct. The website you link to is not endorsed by Asda.