Product list
Showing 1 - 7 of 7 products
Showing 1 - 7 of 7 products
Advertisement
Kids Bikes at ASDA Direct
Whether you are looking for a new kid's bike, or just looking to upgrade an existing bike, Asda has a great range of kid's bikes and bicycle accessories to choose from at Asda.
Browse Asda's virtual aisles and choose from a wide range of kids bikes in styles which your kids will love at prices which help your pocket. Just remember they are only young once. Make sure all your family members are kept safe when out & about on their bikes with a bike helmet. Order the bike of your dreams from the comfort of your own home with Asda Direct. After making your choices why not purchase all your goodies from the calm and serenity of your home with Asda Direct.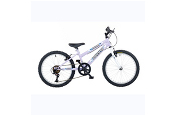 Sponsored Links (What's this?)
No sponsored links available
Sponsored Links
Asda Direct's Sponsored Links are provided by the Google AdWords™ program. Companies pay for these links to have their products and services appear with specific search terms. These listings are administered, sorted and maintained by Google.
Clicking on sponsored links will take you away from Asda Direct. The website you link to is not endorsed by Asda.